Communities of Practice for Volunteer/Unpaid Facilitators of Carer Support Groups
Are you a current or future Carer Support Group Facilitator?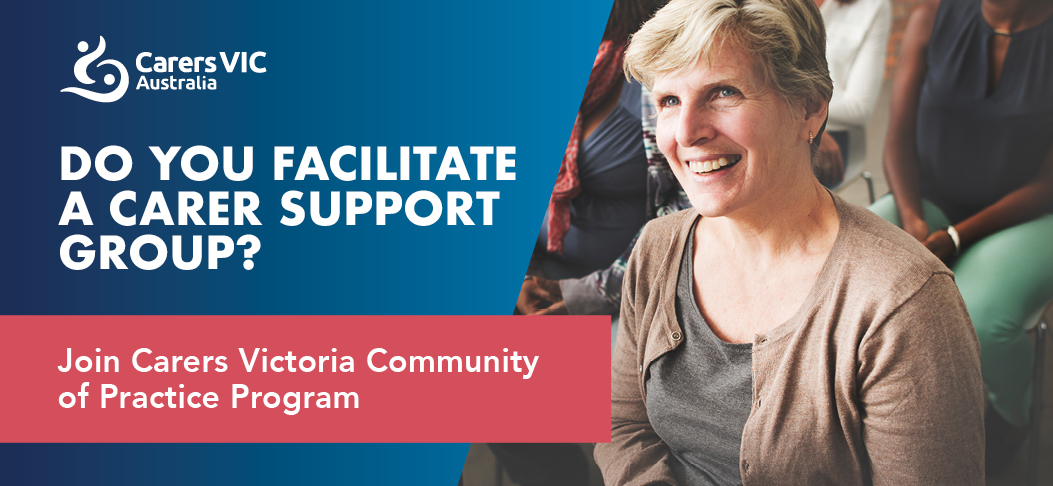 A FREE five session program for Volunteer/Unpaid Carer Facilitators of Support Groups by Carers Victoria
Are you a current or future Carer Support Group Facilitator?
Connect with like-minded others to share experiences, challenges and resources.
Carers Victoria will recommence its Community of Practice (CoP) program in April 2023 by creating a safe space where volunteers or unpaid facilitators of carer support groups can connect and share.
The first four gatherings will initially be hosted online and will include facilitators from across all of Victoria. Sessions will be held every two months, with a total of five sessions in 2023. This includes a final face-to-face celebration and evaluation workshop in December.
The first session of the program will be Attracting and Maintaining membership of your Carer Support Group. Topics for subsequent sessions will be formulated from your feedback in the first session. Participants are encouraged to come along to every session, to build this community of facilitators.
Who should attend
New or future volunteer/unpaid facilitators of Carer Support Groups from across Victoria.
*Community of Practice (CoP) is defined as a group of people who share a common concern, a set of problems, or an interest in a topic and who come together to share what they have learned and resolve common challenges.
Communities of Practice for Volunteer/Unpaid Facilitators of Carer Support Groups
when
Wednesday 19 Apr 2023
12.30pm - 2.30pm
where
Online sessions via Zoom
cost
Free online workshop
contact
Carers Victoria
Events Team