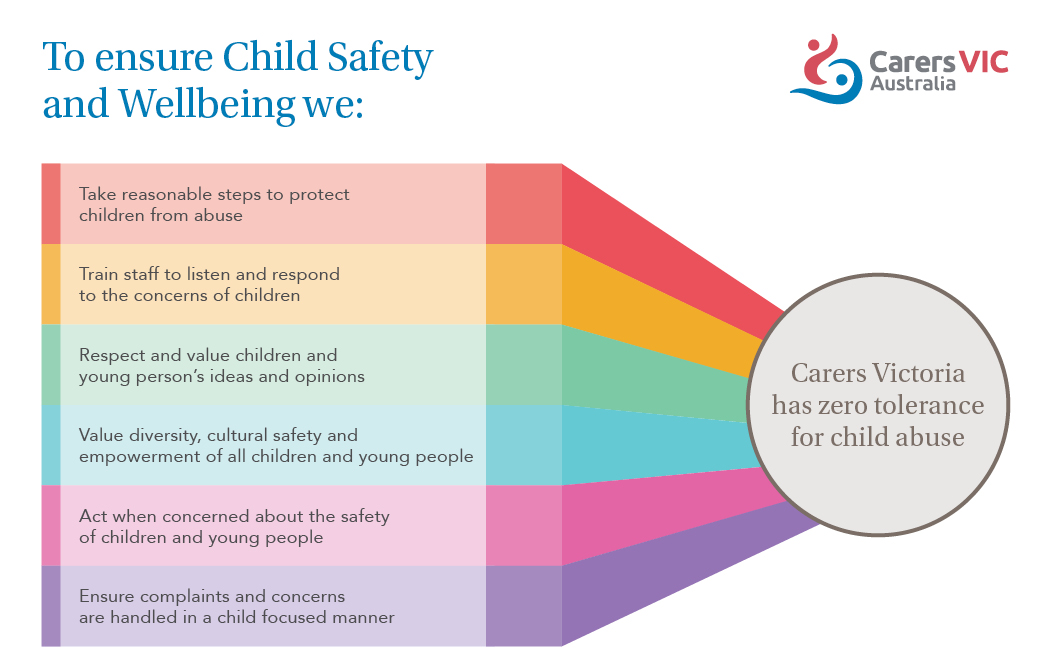 Carers Victoria is committed to promoting and protecting the safety and wellbeing of children and young people1, by providing a child safe environment where children and young people are safe and feel safe, and their voices are heard about decisions that affect their lives.
Carers Victoria has established policies, procedures and practices that align to the Victorian Commission for Children and Young People Child Safe Standards (the Standards) and require all subcontracted providers to also adhere to those standards.
Our primary contact with children and young people is through our provision of one-on-one support, activities and events for people who are in care relationships, where the young person may be providing and/or receiving care.
Children and young people may also be present while their parent/guardian accesses Carers Victoria services, education or events, and/or concerns about the safety and wellbeing of children and young people may also emerge while conducting supports for parents.
Carers Victoria:
Has a zero tolerance for child abuse in any form and have systems to protect children from abuse.
Will treat all allegations and safety concerns seriously and consistently with our established policies and procedures, which all staff are required to review and comply with.
Will contact authorities when we are concerned about the safety of children and young people we encounter through our work, in line with our legal obligations.
Values and is committed to supporting diversity, inclusion, equality, cultural safety and a safe environment for all children and young people including Aboriginal and Torres strait islander children, children from culturally and/or linguistically diverse backgrounds, LGBTIQA+ children and children with a disability.
Every person working or involved with Carers Victoria is required to understand the important and specific role they play individually and collectively to ensure the wellbeing and safety of all children and young people in line with the Standards.
1. Carers Victoria considers young people to be children and young carers up to the age of 25; however only those aged under 18 are in scope for the purposes of this Child Safety statement.
Version 2.0 Issue date November 2022