April 2022 'The Voice' Blog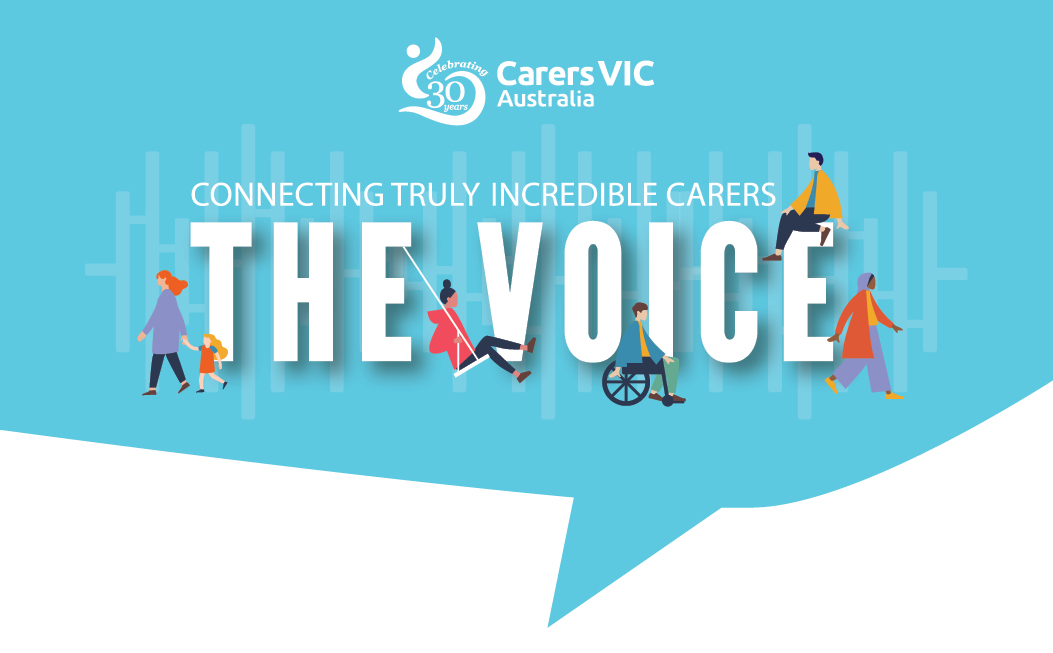 Welcome to the Voice April
At the end of last year, we asked carers about their experiences of caring during the COVID-19 pandemic. These responses have informed our 2022 policy platform Care for Victorians, which outlines our recommendations to Government ahead of the State election later this year. Find out more about the survey results and our new policy platform below.
Our first Mingle of 2022 is just days away. Tickets are going fast, so we recommend registering your place now if you'd like to celebrate with us and connect with other carers. Mingles are free events for Carers Victoria members and are held across the state. Scroll down to find your nearest Mingle below.
Want to win a two-night getaway to the Great Ocean Road, Mornington Peninsula or the Yarra Valley? During April, May and June we're giving you the chance to win a luxury getaway including accommodation, breakfast, dinner and spa treatment. Scroll down to find out how you can win.
This month as part of our 30 years, 30 stories campaign, Christine shares her experience of caring for her daughter Jacqui who was diagnosed with Cerebral Palsy and a number of other complex conditions as a baby. Jacqui is now 32 years old, and Christine has learned many lessons about resilience and self-care during this time. Click on her story below to find out more about Christine's journey, and the significant role that music has played in her life.
 
Happy reading
The Carers Victoria Team 


Message from the CEO
April has been a big month for the Carers Victoria team with the release of our COVID-19 and Carers survey results. The results highlighted some key trends among Victorian carers during the COVID-19 pandemic, with 76% of carers surveyed reporting increased levels of loneliness due to the pandemic, compared to 54% reported by the general public. A further 86% said their satisfaction with life had declined.
These alarming, although perhaps not surprising, survey results have helped shape our 2022 policy platform Care for Victorians, which was launched this month. Our policy platform sets out priority actions across five key pillars to start building towards a future where carers are healthy and care relationships sustainable. In the lead up to the State election over the coming months, I look forward to discussing our policy platform with our key stakeholders across Government and the broader carer sector. You can find out more about our 2022 policy platform and find a link to the COVID-19 and Carers survey results below.
On a lighter note, our 30 year anniversary celebrations are in full swing, with our 2022 Mingles program kicking off in May. After so many months of working from home, I'm excited to connect with carers face-to-face, hear your stories and share a little more about our plans for the future.
Finally, don't forget to sign up for our 30 getaways membership competition for your chance to win a much-needed luxury break.
Judith Abbott
CEO

Care for Victorians: Policy Platform 2022
Late last year we asked carers to complete a survey about the impacts of the COVID-19 pandemic on their caring role. We heard how the pandemic has affected carers and what they need most as we transition to COVID-normal. To view the COVID-19 and Carers survey results, click here.
Thank you to all the carers who responded to this survey. Your responses helped inform our 2022 policy platform which informs our recommendations to Government ahead of the next State election.
In our 2022 policy platform Care for Victorians we call for mental health and wellbeing support for all carers, assistance to help carers enter and maintain employment, simple access to carer supports that sustain carers in their role, a greater focus on supporting carers in crisis, and embedding of carer perspectives in key service systems.
Click here for the summary version or download the full version here.

Win One of 30 Getaways 
Become a member of Carers Victoria and go in the draw to win two night's luxury accommodation!
To celebrate 30 years of Carers Victoria we are giving some lucky carers the opportunity to win a luxury getaway. You could win two night's accommodation including breakfast, dinner and a spa treatment. Enjoy a luxurious night at beautiful Balgownie Estate in the Yarra Valley, The Great Ocean Road Resort in Angelsea or RACV Resort in Cape Schanck.
There are 10 getaways to win each month during April, May and June, so become a member today for your chance to win.

Mingle 2022: Register Now
Tickets for Mingles 2022 are going fast. Find your nearest Mingle event below and register today before it's too late!
This year's Mingle program will feature a live performance from Elvis tribute artist Damian Mullin, delicious morning tea and lunch. You'll have the opportunity to learn about carer services in your local area, reconnect with other carers and take a break to prioritise your wellbeing.
Please note, one Mingle event per carer. By registering for a Mingle event, you agree to join Carers Victoria's free membership program.
Mingle 2022:
Preston: Thursday 5 May
Ballarat: Thursday 12 May
Geelong: Tuesday 17 May
Frankston: Thursday 19 May
Bendigo: Tuesday 24 May
Traralgon: Thursday 26 May
Ringwood: SOLD OUT
Taylors Lakes: SOLD OUT

Caring Costs Us Report
A new report for Carers Australia has revealed the huge financial disadvantage Australia's 2.65 million carers face when they take on a caring role − amounting to more than $567,000 on average in lost earnings and superannuation.
Caring Costs Us: The economic impact on lifetime income and retirement savings of informal carers – a report for Carers Australia completed by economic consulting practice Evaluate has found that Australian carers on average forego $392,500 in lost wages to age 67 and miss out on a further $175,000 in superannuation.
Key findings from the report include:
The financial impacts of caring can financially disadvantage Australian carers who can lose a considerable amount in lifetime earnings and superannuation.
The age a person becomes a carer is significant factor on the financial impact of their caring role.
Carers enter retirement age with less financial security than if they had not undertaken the care role.

30 years, 30 stories: Christine
Christine's daughter Jacqui was just one year old when she was diagnosed. As far as Christine was aware Jacqui was a healthy baby, but when Jacqui didn't reach her expected milestones doctors sent her for a number of tests and a sudden diagnosis was made: Cerebral Palsy and a number of other complex conditions that would mean Jacqui requires high-level, full-time care.

Early Childhood Intervention Online Information Sessions
We are running a series of information sessions on the Early Childhood Intervention Approach for parents and carers. The sessions will cover an overview of the process to access early intervention support, information on community supports and carer services.
This is ideal for parents or carers of children with disability aged 0-6 who will benefit from early intervention supports.
There are three online sessions remaining in May and June.

Carer Friendly Neighbourhood House Update
Carers Victoria and Neighbourhood Houses Victoria have been working together over the past year to extend support for carers to be healthy, active and connected.
Through the Carer Friendly Neighbourhood House program, neighbourhood house staff and volunteers undertake a series of short online information modules to gain a greater insight into the varied needs of carers and how they can better support carers. There are now over 75 Carer Friendly Neighbourhood Houses throughout Victoria, with more joining every month.
At your local Carer Friendly Neighbourhood House you will find:
Staff who can help you navigate services and supports for carers;
Carer-specific events, programs and workshops;
Local carer support groups;
A warm and welcoming space.
Find your nearest Carer Friendly Neighbourhood House here.
To find out more about neighbourhood houses click here. 

Carers Victoria In The News
Results from our recent COVID-19 and carers survey were featured in Aged Care News this month.In the article, Carers Victoria CEO Judith Abbott discussed the particular concerns that carers faced during the pandemic."Carers weren't just worried about their own wellbeing, they were stressed about reducing the risk of transmission to the person under their care, as well as having to rapidly adapt to take on new duties and transfer to new services," she said.

Young Carer Scholarship Program Update
Thank you to the young carers who applied for a Young Carer Scholarship. The scholarships are currently being assessed and all applicants will be notified of the outcome by 31 May 2022.


Featured Workshops:
Supported Decision Making
Caring can be complex and challenging. One in eight people at any time provide unpaid care or support to someone in need. As the peak body for unpaid carers, Carers Victoria is here to support you.
This workshop provides information about the support services available to family carers and the service organisations which provide those services. It also includes information on the Carer Gateway.
When: Wednesday 18 May, 1.00pm - 2.30pm
Where: Online via Zoom

Writing with Purpose
Are you interested in building your skills and confidence to write your story? Would you like to share your story with other carers, and see it published in Carers Victoria's marketing materials?
Stories can be a powerful tool to bring about both small and significant changes to the systems that affect our lives. They can bring comfort and help build communities among people with shared experiences, and hold people in power to account. Writing your story can also be a great way to process complex life events, like taking on a caring role.
Through this program we will support you to write your personal carer story. You don't need any writing experience, just the motivation to work at it and a willingness to share your experiences with other carers.
Please note, the program is for carers only and places are limited. Express your interest in the program today.
When: Starts Wednesday 18 May, 10.00am - 1.00pm
Where: Online via Zoom

Event: safeTALK Suicide Prevention Training
Carers Victoria, in partnership with North Western Melbourne PHN, is delivering safeTALK suicide prevention training this May.
safeTALK teaches participants to engage with the person with thoughts of suicide, and connect them with resources to help them be safer from suicide. These resources could include health care professionals, first responders, or crisis line workers – among many others who have suicide intervention training.
Participants don't need any formal preparation to attend the training. Anyone aged 15 years or older who wants to make a difference can learn the safeTALK steps.
When: Tuesday 17 May, 10.00am - 2.00pm
Where: Moonee Ponds Bowls Club


CARE Study: Experience of Caregivers and Siblings of People who have Experienced Mania or Psychosis
Researchers at Orygen Youth Health are conducting a research study called "CARE" to improve understanding of the experience of caregivers and siblings of people who have experienced mania or psychosis.
CARE researchers are currently recruiting primary caregivers to an individual who has experienced mania or psychosis. They are also looking for siblings of people who have experienced mania or psychosis. The sibling relationship can be biological, step, foster, or adoptive in nature. All participants in this study must live in Australia and be 18 years or older.
Eligible participants will be a given a link to an online survey which will take approximately 60-90 minutes to complete. Upon completion, participants will enter a draw to win one of five $200 gift vouchers.
Download the flyer here to find out more.

Communication in Aged Care
The University of Melbourne is conducting a research project into communication in aged care, covering both residential and at-home care.
Researchers are looking for older people and/or their support person(s) who receive or have recently received care from personal carers from non-English speaking backgrounds. The study will inform the design of assessment materials for personal carers from non-English speaking backgrounds.
Participants will be invited to take part in an online interview and will receive a $30 gift voucher for their time.
To sign up for the study click here, or email uknoch@unimelb.edu.au for more information.
Improving Hospital Discharge for Carers and Older Adults
Carers Victoria and Monash University are seeking carers of older adults living in the community to take part in a survey. This project aims to identify carers' experiences and needs in supporting older adults who are discharged from hospital to home.  
To be eligible, carers must: 
Be supporting an older adult living in the community with chronic health difficulties; and

Have experience with discharge from hospital to home

following admission for a physical health problem

of the older adult that they support at any time after 1 January 2020.
All carers are welcome to take part including those from diverse cultural backgrounds, diverse sexual orientation, and diverse locations such as rural and regional areas.  
The survey will take approximately 25 minutes to complete. Click here to complete it.
For more information, or if you prefer a hardcopy of the survey, please email Jacqui Allen at Jacqui.allen@monash.edu or phone 0427 940 794.