January 2022 'The Voice' Blog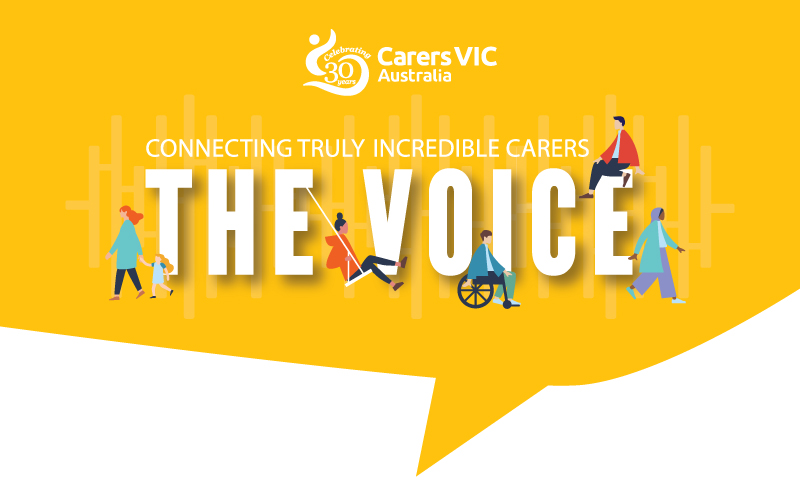 Welcome to the Voice January
We're back for another year and it's a very exiting one at Carers Victoria. This year marks our 30th anniversary and we have a number of celebrations planned for the months ahead.
While we can't reveal too much just yet, to ensure you get first access to our exclusive anniversary events, be sure to sign up as a member. It's free for carers and supporters, and guarantees you'll be the first to know about the celebrations and opportunities to get involved.
After a very challenging two years a new year does bring a sense of hope, however it is difficult to ignore the ongoing anxiety surrounding the pandemic. If you're isolating at home, we encourage you to read and share the article from The Conversation below about looking after your mental health in isolation, which includes tips that can benefit us all.     
Take care and stay COVID-safe.
Happy reading
The Carers Victoria Team 


Message from the CEO
We have a big year ahead of us at Carers Victoria. In our 30th anniversary year, we look forward to taking stock of where we've come from, what we've learned and where we're heading. As part of the celebrations to mark this occassion, you can look forward to reading lots of carer stories and attending special events, as well as hearing about some of the work we'll be doing to keep the needs of carers on the political agenda. Of course, 2022 is an election year and we look forward to sharing with you how we are working with Government to ensure your voice is heard.
At the end of last year, we asked you to share your views on the impact of the COVID-19 pandemic on you and your caring role. We had a great response to this survey, and will be sharing the findings in future editions of The Voice. The results of this survey will inform a platform that sets out the actions the Victorian Government can do to support, recognise and celebrate the essential role of all carers. 
We know from speaking to carers everyday that juggling work and study commitments with a caring role can be one of the most challenging aspects of being a carer. Carers Victoria was pleased to be selected for the Victorian Government's Career Pathways into Employment for Unpaid Carers initiative. To find out more about the program and how we can support you to meet your employment goals, read the full article below.
We look forward to connecting in 2022 and continuing to learn from you as we celebrate our 30th anniversary year.
Judith Abbott
CEO

COVID-19 Update
The Victorian Government has reduced the third-dose interval from four months to three months from the second dose at state-run vaccination centres for people aged 18 years and over.
The Pfizer and Moderna vaccines are recommended for use as third doses. Both vaccines are considered equally acceptable.
Pregnant women aged 18 years and over who received their second dose of a COVID-19 vaccine three or more months ago are recommended to have a third dose.
Immunocompromised people that have received three primary doses can also receive their fourth dose. The interval has now been reduced from four months to three months from the third dose. You can view ATAGI advice here.

Career Pathways into Employment for Unpaid Carers
Are you looking to enter or re-enter the workforce?
Not sure if you have the skills or confidence?
Not sure where to start?
If you answered yes to any of these questions, support is available!
As part of the Victorian Government's Career Pathways into Employment for Unpaid Carers initiative, a Carers Employment Support Program has commenced to support carers across Victoria meet their employment goals. 
The Carers Employment Support Program provides tailored employment support for carers to seeking to enter employment, or vocational training to transition into paid work.
Carers can be supported into employment and training opportunities in a range of ways tailored to individual needs, including:
Carer respite;
Work readiness and mentoring support;
Support to navigate and link to employment and vocational training options;
Study cost packages;
Mentoring to support work or vocational training placements;
Support to help adjust to and maintain new employment or vocational training opportunities.
To find out more, read the media release from the Premier's office here. 
For more information about the Carers Employment Support Program and referral to your local provider please contact Carers Victoria on 1800 514 845.

Carer Friendly Neighbourhood Houses
Carers Victoria and Neighbourhood Houses Victoria have been working together over the past year to extend support for carers to be healthy, active and connected through greater engagement with neighbourhood houses.
Through the Carer Friendly Neighbourhood Houses Program, Neighbourhood House staff and volunteers undertake a series of short online information modules and gain a greater insight into the varied needs of carers and how they can better support carers.
There are now over 70 Carer Friendly Neighbourhood Houses spanning Metropolitan Melbourne and regional Victoria, with more and more joining each week.
At your local Carer Friendly neighbourhood house you will find:
staff that can help guide you to services and supports for carers
activities and programs
carer specific events and workshops
carer support groups
local community and carer members
a warm and welcoming space
Find a current list of Carer Friendly Neighbourhood House here.
To find out more about Neighbourhood Houses click here.

Supporting Carers Locally Program: Round Two
The second round of the Victorian Government Supporting Carers Locally Grants Program is now running.
Through this program, grants are provided to local organisations to increase opportunities for carers to be physically and mentally healthy and socially connected to family, friends, other carers and their local community.
As the peak body for carers in Victoria, we have been engaged to support these organisations to successfully execute their programs. This may include accessible peer support, grassroots community support programs, and resources.
To find out more about the grants program click here.

Australian Carers Guide: Summer Edition
The summer edition of Australian Carers Guide is now available online and in newsagents.
Highlights of the jam-packed edition, include:
Is multi-generational living right for you?
Carer payments – are you receiving all you can?
Sex and Ageing
Maree McCabe AM, CEO Dementia Australia and Liz Callaghan, CEO Carers Australia, release the results of their Dementia Discrimination survey.
Four great light and healthy summer recipes.
For free digital access, become a Carers Victoria member.

Become a Member
Stay in the loop in 2022 and join our caring community.
Membership is free and open to carers, former carers and supporters.
Membership benefits include:
Exclusive invitations to events including our popular Mingle events, carer workshops and programs specifically designed for carers;
Championing for real change through consultations, focus groups and research;
Staying informed with our monthly eBulletin 'The Voice' jam-packed with important carer issues, events and stories;
Free digital access to Australian Carers Guide;
Special member offers including Hoyts movie tickets and Club Shopper discounts;
Free sign up for individuals.

Happiness First Carers Cottage
We recently promoted discounted rates at the Happiness First Carers Cottage on the Mornington Peninsula to our members.
Due to ongoing concerns around the COVID-19 pandemic, the Happiness First Carers Cottage will not be taking bookings until further notice. Members will receive an update from us once the cottage is taking bookings again.
If you have any concerns, please email membership@carersvictoria.org.au

In The News: Looking after your mental health if you're at home with COVID
As the Omicron variant sees COVID-19 cases in Victoria at record highs, it's natural to feel anxious about what will happen if you contract the virus.
While there has been plenty of good information in the media recently about how to look after your physical health if you are isolating at home with COVID, the conversation about looking after your mental health has been lacking.
In this piece from The Conversation, Louise Stone offers some tips about looking after your mental health in isolation, including avoiding unhealthy habits, practising mindfulness and seeking support when you need it.
Author: Louise Stone
Source: The Conversation


Workshops are Back
Carers Victoria's workshop program returns in February. Click here to find a workshop and register your place.
Sessions are also available for carer groups, community groups and workforces on a range of carer issues, and can be delivered at your venue or online. To find out what is available please visit our website or email education@carersvictoria.org.au to discuss your needs.

ParkCanDo
ParKanDo is offering carer information, activity sessions and chair yoga for people with a disability or chronic condition, people who are ageing with care needs and their carers.
Sessions will initially be held online, but may move to the Newport Community Hub dependent on the COVID situation and guidelines.
Sessions begin 18 February.


Dementia-Friendly Eyecare
Researchers at the University of Melbourne are seeking people with dementia and their carers to share their experience of having an eye check.
Participation involves an interview either face-to-face or over the phone. The interview would take no longer than an hour.
If you haven't had an eye check recently, it doesn't matter, you can still take part.
To find out how you can take part click here.

Developing a Measure of Family and Carer Engagement with Health Services
Are you a carer or family member of a person with a mental health problem (current or past)? Monash Rural Health wants to hear from you.
You're invited to share your experiences through a survey that will help improve how mental health services and workers engage with family and/or carers during the treatment of a persons' mental health challenges.
To complete the survey click here. For more information about the study click here.
Participants will receive a voucher for their time.