March 2022 'The Voice' Blog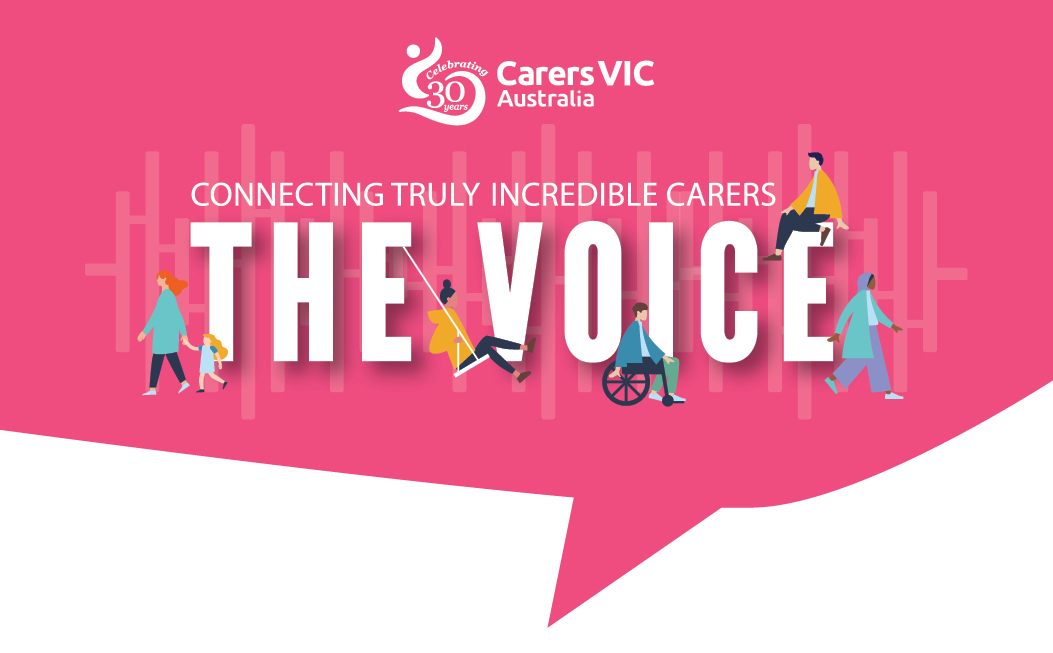 Welcome to the Voice March
It was great to meet so many carers at our sold-out Member Family Day event at the Melbourne Zoo this month. Check out the wrap-up and some snaps from the day below.
If you missed out on a ticket to our Member Family Day and are keen to re-connect in person, tickets are now available for our 2022 Mingle program. Scroll down to find your closest event and register your place today to avoid missing out.  
Applications for our Young Carer Scholarship Program 2022 are now open. If you're a young carer currently attending secondary school in Victoria, or know someone who is, we encourage you to find out more below. Applications close Friday 15 April. 
To celebrate our 30th anniversary year, we are collecting 30 carer stories to celebrate the diverse experiences of Victorian carers. This month, we share Laura's story. Laura is a mother and carer to Christian, who was diagnosed with autism as a young child. Now he is 18 years old, Laura is learning to step outside her comfort zone as a carer to encourage Christian's independence as he transitions to adulthood.   
Happy reading
The Carers Victoria Team 


Message from the CEO
We have had a big month at Carers Victoria, with lots of exciting projects and events coming up for carers.
This month Carers Victoria Chair Sue Peden and I had a great meeting with Minister Anthony Carbines and Parliamentary Secretary Josh Bull. We talked about opportunities to strengthen support for carers in areas like employment, mental health and wellbeing. There are some fantastic opportunities to make carers lives better in these and other areas, and we look forward to working with government as well as our partners, funders and carers to achieve that goal.
You might have heard me say it before, but starting work at an organisation in the midst of lockdowns and COVID restrictions is a very strange experience indeed! That's why it was such a pleasure for me to attend the Carers Victoria Members Family Day at the Melbourne Zoo this month. It was great to meet some of our members face-to-face, listen to your stories and answer questions about what's coming up at Carers Victoria. As you'll see in the photos below, a couple of the Board directors in attendance and I even dabbled in a bit of Carers Victoria (meets fairy princess) face-painting!
Thank you to everyone who came along on the day and to our staff who worked so hard to make it a success. We look forward to holding more great events like this one for carers, so do keep an eye on The Voice for all the latest updates.
Judith Abbott
CEO

Mingle 2022: Let's Celebrate
Carers Victoria is turning 30 this year, and to celebrate we're launching an exciting new season of Mingles for carers.
Join us at Mingle 2022 for a live performance from Elvis tribute artist Damian Mullin, delicious morning tea and lunch. You'll have the opportunity to learn about carer services in your local area, reconnect with other carers and take a break to prioritise your wellbeing.
Mingles are free events for carers.
Please note, one Mingle event per carer. By registering for a Mingle event, you agree to join Carers Victoria's free membership program.
Mingle 2022:
Preston: Thursday 5 May
Ringwood: Tuesday 10 May
Ballarat: Thursday 12 May
Geelong: Tuesday 17 May
Frankston: Thursday 19 May
Bendigo: Tuesday 24 May
Traralgon: Thursday 26 May
Taylors Lakes: SOLD OUT

Member Family Day
Thank you to everyone who joined us at our Member Family Day 2022.
Members and their families had a great time exploring the zoo and enjoyed face painting and popcorn, followed by a picnic lunch. Carers Victoria staff were available to answer questions about local services and supports, and even our CEO got into the spirit of the day with a bit of face painting!
To check out the photos from the day, visit our Facebook page.
As a Carers Victoria member, you get exclusive access to free events like our Member Family Day.

30 years, 30 stories: Laura 
As a young child, Laura's son Christian did not make eye contact. Laura remembers that he always wanted to be ahead on walks and communicated only through noises. At three years old Christian was diagnosed with autism, and Laura suddenly found herself in a caring role.
For Laura, being a carer is just part of being a Mum.
"I have learnt to be patient, not expect too much and do a lot of repeating to achieve the simplest of goals," Laura says.
Christian is now 18 years old and mainly non-verbal. As she watches her son transition into adulthood, Laura is learning to take risks to encourage Christian's independence.
This week, Laura sent Christian off on public transport independently to attend a horticultural program. As frightening as sending Christian on his own was, Laura was excited at what this could mean for his independence. While Laura tracked his phone, Christian successfully navigated two tram rides and crossed major roads on his own. Unable to help herself, Laura watched Christian cross the road from 200 metres away, concealing herself (or so she thought) in a bush, but Christian had a sixth sense that his Mum was watching him. He called Laura to tell her there was no bus, when Laura asked him where he was, he told her the exact location (which Laura had verified herself) and asked Laura to pick him up. Recognising where he was and navigating public transport on his own is a huge milestone for Christian. Being a carer can mean many things – for Laura, sometimes it means being a spy!
Laura knows how valuable reading a carer story can be for others on a similar journey. Her message to carers is simple, "Don't give up and keep soldiering on."

Young Carer Scholarship: Applications Now Open
Do you know a young person with caring responsibilities? Over 71,600 young people in Victoria are believed to have significant care responsibilities. Many are at risk of dropping out of school, or have difficulty establishing social networks and participating in activities that their peers enjoy.
Carers Victoria's Young Carer Scholarship Program gives young carers attending secondary school the opportunity to be acknowledged and supported.
Young Carer Scholarships are open to secondary school students who live or go to school in Victoria and provide care and support to a family member with an illness or disability. Scholarships of up to $500 are awarded to successful applicants.
Applications are now open and close Friday 15 April.

Early Childhood Intervention Online Information Sessions
We are running a series of information sessions on the Early Childhood Intervention Approach for parents and carers. The sessions will cover an overview of the process to access early intervention support, information on community supports and carer services.
This is ideal for parents or carers of children with disability aged 0-6 who will benefit from early intervention supports.
Information sessions commence Tuesday 12 April, with multiple sessions available.

COVID-19 Update
Supported by the Victorian Government, Carers Victoria is currently delivering a statewide phone-based case management service to assist carers to access COVID-19 vaccinations. If you or the person you care for needs assistance, phone us on 1800 514 845.
For all the latest information about COVID-19 and the vaccine rollout, visit our COVID-19 information page.

Carer Champion News: Julie Fisher at TedX
Carer Champion Julie Fisher recently recorded a TEDX talk for DerryLondonderry Studio.
Julie's youngest son Darcy lives with Down Syndrome and is the inspiration for her becoming an author to raise awareness and educate people on how important inclusion and acceptance is even in everyday activities. She wants to see a world where people are accepted for who they are and not judged by what they have or because they look or behave a little differently.
As Julie holds up a photo of Darcy, she says, "This is Darcy, I wouldn't change him for the world, but I'll change the world for him."
Julie's second book The Magic of Inclusion is now available as an eBook on the Amazon store.

Featured Workshop:
Creative Connections for Carers (Sunshine)
Take a break, have some laughs, connect with other carers and unleash some creative energy.
Learn how music can affect your mood, energy levels and physical health, and how to choose music that's good for your mind and soul. Have a go at trivia, there's questions for everyone with topics including music, movies and general knowledge. Learn how to make a polymer clay necklace – an easy and fun craft that's sure to impress. Keep it and wear, or gift it to someone special.
When: Tuesday 26 April, 9am-3pm
Where: Duke Street Community House, Sunshine

Event: Art for Carers Program
Art for Carers is a free online program for carers from across Australia. 
This is a social and creative program for participants to learn about and discuss artworks from the National Gallery collection.
The next program will focus on Judy Watson & Helen Hohnson the red thread of history, loose ends. This exhibition focuses on the work of these two women, Watson a Waanyi woman from Queensland, and Johnson a second-generation immigrant of Anglo decent from Melbourne, and how they explore complex perspectives on colonisation.  
Date and Time: Tuesday 5 April from 1pm - 2pm.
Where: On Zoom - Ticket holders will receive a link to access this online event via email.
For more information phone 02 6240 6632 or email access@nga.gov.au