December 2022 'The Voice' Blog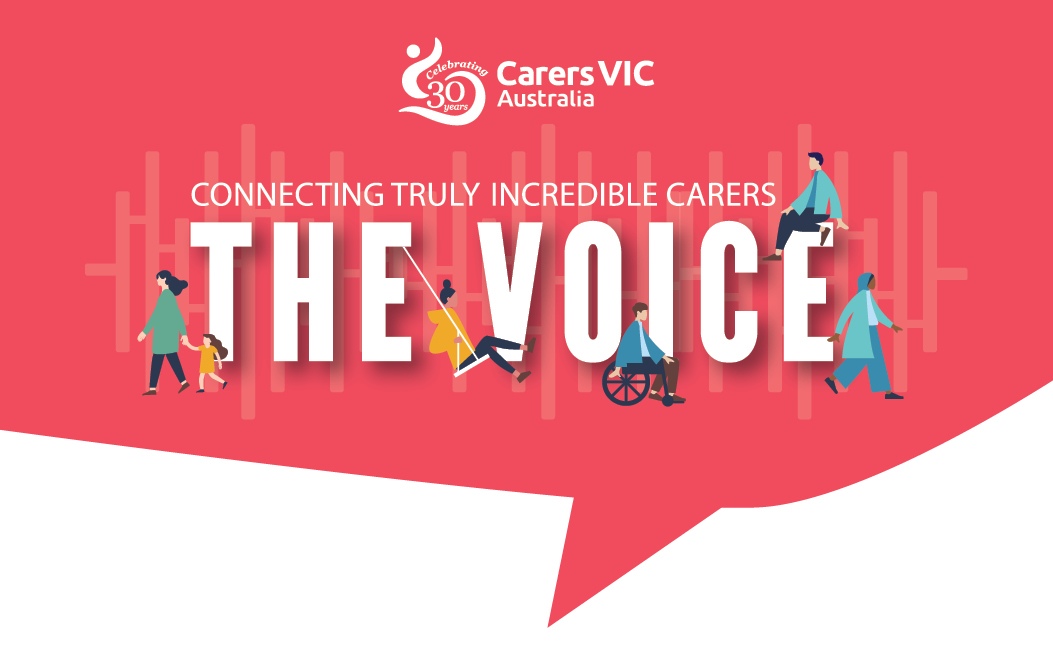 Welcome to the Voice December
It's our final edition for 2022! 
Our final carer story for the year is a touching and powerful poem by Christina Johns, where she brings to life the hope and heartbreak of being a carer. Read Christina's poem here.
With the rising cost of living, Carers Victoria is aware of the added pressure that this may bring to carers. If you are facing debt or other money trouble, you may benefit from speaking to a financial counsellor. Find out more under "Carer Pathway to Financial Counselling". 
Please note that the Carers Victoria office will be closed from 2pm on Friday 23 December and will re-open on Tuesday 3 January. If you need support during this time, we encourage you to contact the services listed under the "Office closure" information, below and see "What's On" for details about an emergency respite services workshop. 
The team at Carers Victoria wishes you a safe festive season. We look forward to working with you to make carers more visible in 2023 and bring you more of the latest news for carers.
Happy reading
The Carers Victoria Team 


Message from the CEO
Hello everyone,
Where has the year gone? As 2022 draws to a close, I reflect with pride on all that we have achieved together.
We exist to voice the needs of Victoria's 700,000+ unpaid carers. Our 30th anniversary has been an opportunity to reflect on our role and extraordinary transformation from a small group of committed volunteers to a fully-fledged peak body and service provider.
2022 was a particularly significant year in our history. Alongside our continued service delivery, sector development, education and events programs, we created new partnerships with the corporate sector to improve support for carers in the workplace, strengthened our advocacy efforts in advance of the Victorian State Election, explored new approaches to support carers who wish to re-enter paid employment or training, and much more.
None of this would be possible without the continued commitment, enthusiasm, and expertise of the community we work with, and I'd like to thank Victoria's carers for the time you have taken to connect with and advise us throughout the year.
There is much more to do as we work towards our goal of a future where everyone understands, respects and supports carers every day of the year. With that in mind, we are already preparing to advocate for service, funding and policy reforms in the areas that matter most to carers in 2023 and will be refining our current Policy Platform in early 2023 to ensure it reflects our evolving environment (and in particular, the financial pressures many carers are reporting).
We will continue to raise those priorities in every conversation we have with political leaders, with government contacts, with corporates, and with other partners and supporters because that helps build a deeper understanding of carers across all parts of our community, which can help make support for carers everybody's business. We want to change the conversation from "what's a carer?" or "why are you asking that?" to one where your contributions are recognised and welcomed, and the question you hear is "what do you need?" and "how can we support you?"
It will indeed take our collective efforts to achieve that change, and I'd like to close by recognising the many people who have contributed to our work and progress this year. This includes carers themselves, Carers Victoria staff, our funders, supporters and donors, directors and committee members. A deep and genuine thank you for your contribution.
Have a safe and peaceful festive season, everyone,
Judith Abbott
CEO

Carer Pathway to Financial Counselling
As a carer, it can be hard to attend to your own needs. Sometimes money doesn't stretch far enough, and the caring role can be unpredictable.
If you are facing debt or other money trouble, you may benefit from speaking to a financial counsellor (for those over 18 only).
Financial counsellors are qualified professionals who understand your financial and consumer rights and can help you get back on track. They provide individuals with free and confidential support with no conflicts of interest.
Financial counsellors also work together on common problems faced by the community. For example, thanks to the work of financial counsellors, car registration payments can now be made in instalments – making it easier for people to afford the payments.
Working in partnership, Carers Victoria and Financial Counselling Victoria have established the new Carer Pathway to Financial Counselling.
The Carer Pathway to Financial Counselling: 
Makes it easier for carers to set up contact with a financial counsellor
Helps carers access initial assistance as early as possible
Gives carers a choice about which agency they work with over the longer term (if needed).

Employment, education and training opportunities
Are you a carer interested in returning to work, vocational training or education?
Carers Victoria currently has a number of new employment initiatives underway. If you would like further information or would like to discuss your situation or explore your options, please email employment.support@carersvictoria.org.au with your contact details and we will be in touch.

Thermomix® winner announced!
Congratulations to Melinda B., who is the lucky winner of our final competition for 2022.
Melinda has won a brand new Thermomix® TM6: your second pair of hands in the kitchen, replacing over 20 appliances in one! 
If you want to hear about more opportunities to win in 2023, become a member of Carers Victoria.
30 years, 30 stories: Christina's story
The final carer story for 2022 is a touching and powerful poem, where Christina brings to life the hope and heartbreak of being a carer.
"The cost of our Caring,
Counts the loss of our dreams.
And we swallow the tragedy,
One moment, One day,
And we rise, and we do it again."

The Carers Couch 
The Carers Couch offers a range of help and professional support services that are tailored to individual carers of people with chronic illnesses.
Behind every cancer diagnosis is a carer. Carers Couch supports unpaid carers to make caring more manageable. The service can guide and connect carers to services, solutions and emotional or community support.

Do you have a story to tell?
Members of Carers Victoria are invited to share their story about life as a carer and submit it to be considered for our 30 years, 30 stories anniversary campaign.
You are welcome to write your story yourself or answer these questions, which we will use to write your story for you. Not all stories will be chosen for the website.
Topic: My carer story
Length: No longer than 400 words
Format: Type your story in an email or a Word document, or type your answers to the questions in this document. 
Need inspiration? See other stories that have been written here. 
Submission process: Please email your story to eBulletin@carersvictoria.org.au
What if your story is chosen? Your story will be edited and returned to you to make sure you are happy with the final version before it is published on our website.
If you have any questions, please email: eBulletin@carersvictoria.org.au We look forward to hearing your carer story! 

Become a member and make a difference 
Become a member of Carers Victoria and join our community to help us make a difference in the lives of Victorian carers.
Membership is free and open to carers, former carers, supporters and Carer Support Groups.
Membership benefits include:
Exclusive invitations to events including our popular Mingle events, carer workshops and programs specifically designed for carers. 
Championing for real change through consultations, focus groups and research.
Staying informed with our monthly eBulletin The Voice, jam-packed with important carer issues, events and stories.
Free digital access to the magazine Australian Carers Guide.
Special member offers, including Hoyts movie tickets.
Free sign-up for individuals.
Office closure over the holiday period
Our office is closed from Friday 23 December until Tuesday 3 January 2023 when all our activities will resume.
Here is a list of other services that may support you during this time:
> Carer Gateway: 1800 422 737
> Lifeline Australia: 13 11 14 – 24 hour crisis support and suicide prevention services
> Q Life: 1800 184 527 or Webchat: qlife.org.au
> Kids Helpline: 1800 55 1800 – 24/7 telephone counselling for young people 5–25 years
> Suicide Call Back Service: 1300 659 467 – 24/7 telephone crisis support for people at-risk of  suicide, carers and bereaved
> 1800 RESPECT: 1800 737 732 – 24/7 support for family or partner violence issues
> Beyond Blue: 1300 22 4636.


Emergency respite services for carers
With the holiday season around the corner, the role of carers can be more stressful than usual. Learn more about respite opportunities and the support available to you.
"Respite'" or "respite care" is when someone else takes care of the person you care for, so that you can have a break. If you become sick or injured and can't continue to care for your loved one, emergency respite services are available to take over care while you recover.
This 30-minute information session with Carer Gateway will explain emergency respite options. Registration is open to anyone who lives, works, plays or creates within the City of Melbourne.
When: 10.00am–10.30am on Tuesday, 20 December
Where: Online via Zoom

Carer Wellbeing and Connection
Register now for online groups in 2023
We know that people who provide care for a loved one often experience loneliness and can feel isolated. If this sounds familiar, the Online Carer Wellbeing and Connection program may be right for you.
It consists of a series of five online therapeutic group sessions designed to help you better understand connectedness and personal wellbeing.
If you live in the North Western metro region, you can register your interest for groups starting mid-February 2023. Day and evening groups will be available. Get in quick – places are limited!

Alfred Health Carer Services: Rainbow Young Carers
Rainbow Young Carers is a safe space for all young carers (aged from 12 to 25) who identify as LGBTIQA+ to hang out with other young carers in the rainbow community, make new friends, take a break and participate in fun events and activities.
This is a new group, and monthly chat sessions will be held online at first with events starting, both online and face-to-face, once the group is established.
Register your interest by emailing carerevents@alfred.org.au

Error executing child request for handler 'System.Web.Mvc.HttpHandlerUtil+ServerExecuteHttpHandlerAsyncWrapper'.
Walking groups
Western Programs walking groups 

Carers in Brimbank, Hobsons Bay, Caroline Springs, Moonee Valley and Werribee are invited to come along to a walking group in your area. Catch up with other carers over a light brunch and find out about local supports and services for carers. Places are limited, so register your place now. 
Note that there will be no walks in January 2023. Walks will resume in February 2023, with groups to be advertised on the Carers Victoria website in January.
Pathways for Carers walking groups: Victoria wide
Carers throughout Victoria are invited to attend walking events in their area to learn more about news, services, and supports available to carers.
Heart Foundation walking groups: Australia wide 
There's a reason why walking is one of the most popular forms of activity in Australia. Join a Heart Foundation walking group to reduce stress, be more alert, have a healthier body and build strong relationships.

Midsumma Festival
Midsumma is Australia's premier queer arts and cultural organisation, bringing together a diverse mix of LGBTQIA+ artists, performers, communities and audiences. Join us at the festival launch with free-entry to the Midsumma Carnival on Sunday 22 January 2023 at Alexandra Gardens from 11am until 10pm. Carers Victoria will be celebrating Midsumma with free DIY sun parasols, so come visit us at our stall. Midsumma Carnival attracts a broad attendance across age ranges and demographics, truly celebrating a day of inclusion and diversity in all its forms. This popular annual event is free to the public and typically attracts around 120,000 people.


Dementia: Experiences of family caregivers
Are you currently caring for a family member with dementia?
A research team at NeuRA is looking for volunteers to participate in an online survey about stigma. The aim of the survey is to explore which factors act as buffer against stigma experienced by family caregivers of people with dementia. The outcomes of this study will help to inform future interventions about important protective factors against stigma to promote health and wellbeing for family caregivers.
To take part, you need to:
Currently be looking after a family member who is formally diagnosed with dementia
Be over the age of 18
Have access to the internet to complete the survey.
For more information and to receive the link to the survey, please see the website or contact Jana Koch via email stigma@neura.edu.au or telephone 02 9399 1116.