November 2022 'The Voice' Blog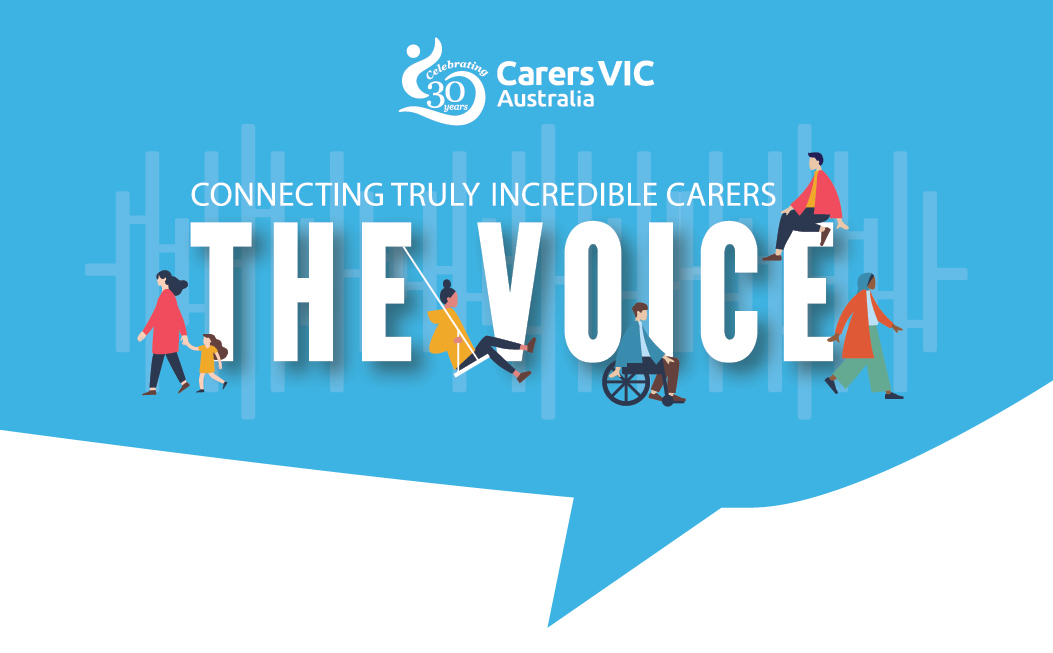 Welcome to the Voice November
Are you a carer who is interested in returning to work? Carers Victoria is currently working on some exciting new employment initiatives specifically for carers. Scroll down to find out about the new "Connecting Carers to employment, education and training" program. See also "What's On" for information about an initial briefing webinar from Accor hotel group's new recruitment program.
Thanks to all the families who joined us at Luna Park for the launch of National Carers Week. Scroll down for photos and more details of this much-enjoyed event. 
Finally, our carer story this month comes from Liam who is a recipient of a Young Carer Scholarship. "I do what I can to help," Liam says. "I play Lego with Owen, read stories with him, and help him get dressed and things. But I don't feel like it's a job because he is my brother, and I would do anything for him." Read Liam's story here. 
Happy reading
The Carers Victoria Team 


Message from the CEO
Hello everyone,
I was so pleased to have the chance to attend a range of events to celebrate National Carers Week and thank those of you who joined us at our Luna Park family day launch event. It was great to have the Shadow Minister for Disability, Seniors and Carers, Tim Bull, join us on the day and make a pre-election commitment to assist carer support groups if elected. See his announcement here. Colin Brooks, the Minister for Disability, Ageing and Carers has also committed to delivering a new Carers Strategy in 2023 if elected. See his announcement here.
I do value the opportunities that National Carers Week provides to highlight the amazing work that carers do, but Carers Victoria also aspires to a future where we don't have to have a special week. Our goal is a future where everyone understands, respects and supports carers every day of the year. We have a long way to go, but by working together I am confident we can get there!
That explains why our annual review for 2021–22 has the title "Making carers more visible". It's a short and snappy read that gives you a sense of some of the things we are doing towards that goal. It has just been released, so take a look here.
I also wanted to thank carers who responded to the National Carers Survey that ran in the middle of the year. The initial results are now available. Over the coming months, we'll be delving deeper into these to support our work as a strong and influential voice for all carers.
Thanks also to those of you who reached out to politicians as part of our pre-election campaign, Carers Count Too. We will continue to advocate for the issues that matter to carers, including the area of financial support. We know the current economy is challenging for many carers who are already financially disadvantaged by their caring role.
Take care, and all the best for the coming weeks as we seemingly hurtle towards the end of 2022 (eek!)
Judith Abbott
CEO

National Carer Survey results released 
Thanks to everyone who took the time to contribute to the National Carer Survey 2022, and congratulations to Karen W, the iPad giveaway winner!
The survey received over 6,800 responses in total and Victorian carers accounted for 20 percent of the total national responses. See our survey fact sheet for an overview of the results.
The results confirm much of what Victorian carers have already been telling us:
They were much more likely to be at risk of mental illness and had much lower wellbeing compared to other Australians.
High levels of financial stress and social isolation were common.
Access to services for the care recipient was reduced or interrupted due to COVID-19.
Organising services for the care recipient took too much time and energy.
The survey findings will help Carers Victoria advocate for carers, influence policy development and improve service delivery for carers into the future. We will be conducting further analysis of the data in the coming months, and we will keep you up to date with our findings. Our early analysis shows that these results are consistent with the results from the 2022 Carer Wellbeing Survey.
For further information, visit the Carers Victoria Knowledge Centre, which provides data and analysis about a wide range of issues relating to the carer experience.

Family fun at Luna Park! 
Thanks to all the families who joined us at Luna Park for the launch of National Carers Week. Both the young and the young at heart enjoyed rides and games at the park while also celebrating the important work that Australia's 2.65 million unpaid carers do every day of the year. 
Thanks also to all the carers who shared some of their thoughts about the day and their experiences as carers. You can see a video of the event here. The feedback from a carer who joined us sums it up beautifully: 
"Meeting other carers. Meaningful conversations. Watching my cherub enjoying herself." – Luna Park event attendee, 2022
Don't forget to sign up to become a member of Carers Victoria to make sure you don't miss the chance to join us at future events.

Carers Victoria at the National Ageing Research Institute's Annual Summit
Carers Victoria was pleased to contribute to The National Ageing Research Institute's Annual Summit, which was themed, "Pathway to Recovery", on 7 October. The panel's discussion focused on positioning the workforce to support older people's recovery and included people with lived experience of caring in regional Victoria, from a First Nations perspective, a clinician specialising in geriatric medicine and a provider of aged care services.
Find out more about the summit in this article by Aged Care News: Outstanding NARI Annual Summit charts Pathway to Recovery – Aged Care News. 

30 years, 30 stories: Liam's story
Our carer story this month comes from Liam, who cares for his brother. Owen was born at 32 weeks and suffered brain damage that resulted in a multitude of disabilities.
"I do what I can to help," Liam says. "I play Lego with Owen, read stories with him, and help him get dressed and things. But I don't feel like it's a job because he is my brother, and I would do anything for him."
Find out about the book that Liam and his family wrote, with Owen drawing the pictures here.

Connecting Carers to employment, education and training
Are you a carer who would like to study, complete skilled training or return to work?
Carers Victoria recognises that, for some carers, gaining employment is something they would like to do but often don't have the support to do this. "Connecting Carers to employment, education and training" is a partnership between Carers Victoria, Neighbourhood Houses Victoria and 10 Neighbourhood Houses that will help you explore the support available to move ahead with your employment or education goals.
The program is part of the Victorian Government Carers Employment Support Program, funded through the Department of Family, Fairness and Housing, to support carers to participate in jobs, education or vocational training. Already, there are 11 other organisations and partnerships involved in this across the state.
We are also working on other exciting new employment initiatives specifically for carers. See "What's On", below, for the first of these opportunities with Accor hotels. If you would like to register your interest and hear about any of these opportunities, please contact Michele. 

Welcome to the Upside of Ageing
LiveUp is a new free nationwide digital-first healthy ageing service that is designed to give older Australians a breadth of opportunities to maintain independence.
It features a screening tool with expert advice connecting older Australians to local services, support networks and assistive products and equipment that will help them to age independently, their way. Head to liveup.org.au and take control of your healthy ageing journey.

The NDIS 2.0 Review
Last month, the federal government announced an Independent NDIS 2.0 Review, appointing Co-Chairs Professor Bruce Bonyhady AM and Ms Lisa Paul AO PSM and panel members to undertake the review in two parts. Part 1 will examine the design, operation and sustainability of the Scheme and Part 2 will analyse ways to build a more responsive, supportive, and sustainable market and workforce.
The intention of the review is to consult widely and co-design directly with participants, their families and carers, as well as providers and workers to improve the responsiveness and capability of the NDIS and the NDIS market to ensure they deliver for Australians with a disability and their families and carers, and society more broadly.  Sign up for updates about the review. 
A webinar featuring AUSLAN interpretation and live captioning about the review was also held on 20 October. View the recording here. 

Auslan video interpreting services for 2022 state election
If you or someone you support requires Auslan video interpreting assistance when voting, Convo Australia is collaborating with the Victorian Electoral Commission to deliver an online live interpreting service. The on-demand Auslan video remote interpreting, or VRI, can be accessed through the convo app, or through convoaustralia.com/vec.
Other useful resources include: 
Do you have a story to tell?
Members of Carers Victoria are invited to share their story about life as a carer and submit it to be considered for our 30 years, 30 stories anniversary campaign.
You are welcome to write your story yourself or answer these questions, which we will use to write your story for you. Not all stories will be chosen for the website.
Topic: My carer story
Length: No longer than 400 words
Format: Type your story in an email or a Word document, or type your answers to the questions in this document. 
Need inspiration? See other stories that have been written here. 
Submission process: Please email your story to eBulletin@carersvictoria.org.au
What if your story is chosen? Your story will be edited and returned to you to make sure you are happy with the final version before it is published on our website.
If you have any questions, please email: eBulletin@carersvictoria.org.au We look forward to hearing your carer story! 

Become a member and make a difference 
Become a member of Carers Victoria and join our community to help us make a difference in the lives of Victorian carers.
Membership is free and open to carers, former carers, supporters and Carer Support Groups.
Membership benefits include:
Exclusive invitations to events including our popular Mingle events, carer workshops and programs specifically designed for carers. 
Championing for real change through consultations, focus groups and research.
Staying informed with our monthly eBulletin The Voice, jam-packed with important carer issues, events and stories.
Free digital access to the magazine Australian Carers Guide.
Special member offers, including Hoyts movie tickets.
Free sign-up for individuals.


Webinar: Employment opportunities at Accor 
Are you a carer who would like to return to work with an employer who can give you the flexibility to meet your caring responsibilities?
Carers Victoria has teamed up with hospitality leader Accor, the largest hotel operator in Australia with more than 30 hotels in the Melbourne city location alone.
What is the opportunity?
Accor has created a recruitment program called "Work Your Way", which offers multiple employment opportunities across Victoria that are flexible for carers.
They offer swift same-day hire for frontline roles and will provide all on-the-job training without the need for any previous hospitality experience.
Accor has a range of employment opportunities across multiple Victorian hotel sites that actively promote inclusion and diversity. Their dedicated Indigenous Program has been playing a key role in empowering indigenous success within Australia's hospitality industry for many years. They actively strive for gender equity, integration for employees with disabilities and LGBTIQ+ inclusion.
Who is this for? 
If you are looking to get back into the workforce or forge a new career path with an employer that supports your carer commitments, please join us for an initial webinar to find out more.
After the initial webinar, Accor will run one-on-one follow-up sessions in mid-December 2022 with detailed information on the specific employment opportunities across Victoria.
When: Wednesday, 23 November 2022
Time: 9.30am–10.30am
Where: Online via Zoom
Carer Wellbeing and Connection
Register now for online groups in 2023 
We know that people who provide care for a loved one often experience loneliness and can feel isolated. If this sounds familiar, the online Carer Wellbeing and Connection program may be right for you. It consists of a series of five online therapeutic group sessions designed to help you better understand connectedness and personal wellbeing.
Register now for groups starting mid-February 2023. Day and evening groups will be available. Get in quick – places are limited!

Introduction to My Aged Care: The System and Services Workshop in Yarraville
A FREE workshop for carers who live in the west of Melbourne 
If you live in the western metropolitan area and want to know more about how the aged care system and services work, this workshop is for you.
People new to the aged care system can often find it complex and confusing to navigate. This 2.5-hour session will introduce you to the aged care system and the services available.
Who should attend:
The workshop is open to families and carers who live in the west of Melbourne and want to learn more about the aged care system.
Please note this is NOT open to agencies, support workers and other paid staff.
Topics will include:
We will give an introduction to the My Aged Care system and discuss the basic eligibility criteria.
My Aged Care – the Australian Government system
Eligibility and assessment
Entry-level care (Commonwealth Home Support Program)
Home Care Packages and the costs (guest speaker)
Please note, this workshop is for people who are new to the My Aged Care system.
When: 10.00am–12.30pm, Tuesday 15 November 2022
Where: Yarraville Community Centre, 59 Francis Street Yarraville VIC 3013

Support Services for Carers Online Workshop
Caring can be complex and challenging. One in eight people at any time provide unpaid care or support to someone in need. Carers Victoria is here to assist.
This workshop provides information about the support services available to family carers and the service organisations which provide those services. It also includes information on the new Carer Gateway.
This workshop is open to people wanting to know more about the support services available for carers.
Topics will include
The challenges facing carers
Support services available to carers through the Carer Gateway and the Victorian Support for Carers Program
Information on which organisations provide support across Victoria
The role of Carers Victoria.
When: 10.00am–11.00am, Wednesday 30 November 2022
Where: Online via Zoom

Walking groups
Western Programs walking groups 

Carers in Brimbank, Hobsons Bay, Caroline Springs, Moonee Valley and Werribee are invited to come along to a walking group in your area. Catch up with other carers over a light brunch and find out about local supports and services for carers. Places are limited, so register your place now. 
Note that there will be no walks in January 2023. Walks will resume in February 2023, with groups to be advertised on the Carers Victoria website in January.
Pathways for Carers walking groups: Victoria wide
Carers throughout Victoria are invited to attend walking events in their area to learn more about news, services, and supports available to carers.
Heart Foundation walking groups: Australia wide 
There's a reason why walking is one of the most popular forms of activity in Australia. Join a Heart Foundation walking group to reduce stress, be more alert, have a healthier body and build strong relationships.

Sector seminar network series 
Professionals working in support services for Victorian carers are invited to join the final session in the popular Sector Seminar Network series.
These evidence-based seminars are designed to increase your understanding of carers in key areas and will inform your current and future work by improving capacity in the delivery of carer services.
Final session:
This free seminar will be held via Zoom and is open to any paid or volunteer colleagues who are involved in the management, planning or delivery of services to carers.


Dementia: Experiences of family caregivers
Are you currently caring for a family member with dementia?
A research team at NeuRA is looking for volunteers to participate in an online survey about stigma. The aim of the survey is to explore which factors act as buffer against stigma experienced by family caregivers of people with dementia. The outcomes of this study will help to inform future interventions about important protective factors against stigma to promote health and wellbeing for family caregivers.
To take part, you need to:
Currently be looking after a family member who is formally diagnosed with dementia
Be over the age of 18
Have access to the internet to complete the survey. 
For more information and to receive the link to the survey, please see their website or contact Jana Koch via email stigma@neura.edu.au or telephone 02 9399 1116. 

The care experience for people utilising aged care respite
Austin Health is partnering with the National Ageing Research Institute to better understand the care experience for people utilising aged care respite. They are seeking people who have experienced residential aged care respite and their families/carers who would be willing to participate.
Participation involves taking part in a 10–30 minute interview (on phone or videoconference). If you or someone you know would be interested in participation, please contact us on 0403 110 157 or email MCRU.Recruitment@austin.org.au.

Consultation opportunity: Review of the Aged Care Quality Standards
The Department of Health and Aged Care is conducting an urgent review of the Aged Care Quality Standards as recommended by the Royal Commission into Aged Care Quality and Safety. It is seeking feedback on a new, strengthened version of the standards.
The quality standards provide a shared understanding of what is expected in aged care and are a valuable resource for older Australians, their families, providers and staff alike. There are two ways that carers can contribute during November:
There are specific consultations on the topics of Aboriginal and Torres Strait Islander Care and Aged care in rural and remote Australia.