October 2022 'The Voice' Blog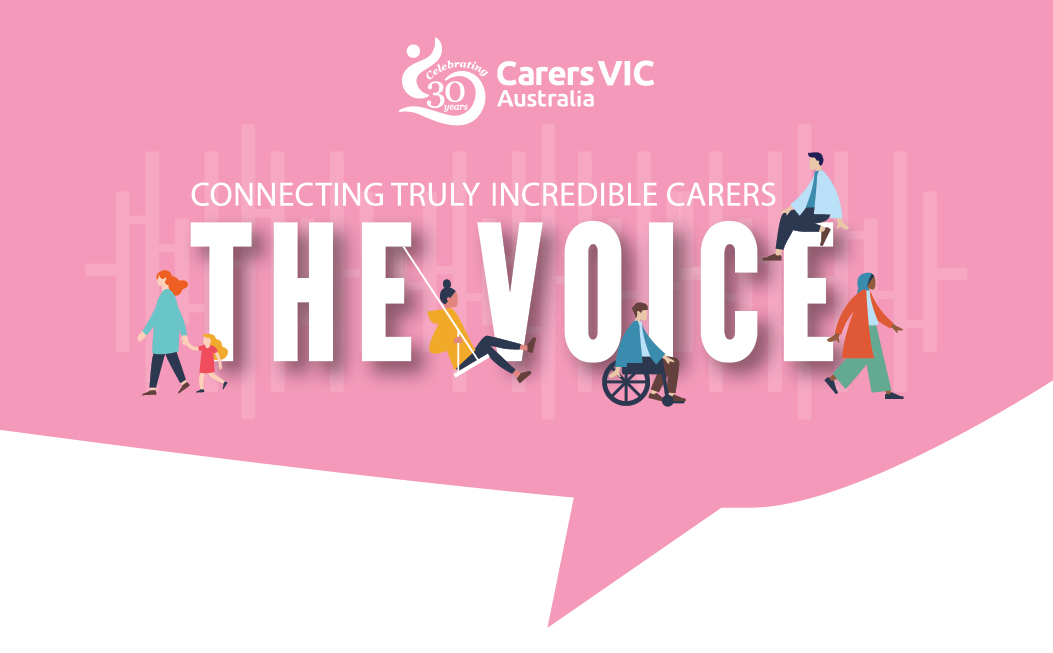 Welcome to the Voice October
It's our favourite time of year!
National Carers Week is fast approaching and runs from 16 to 22 October. The week is a time for all Australians to recognise and celebrate the important contributions the 2.65 million unpaid carers make to their families and our community. See our events page for all the ways you can get involved. 
National Carers Week is also the perfect time to join our advocacy campaign in the lead-up to the Victorian State Election. We already have a number of our members who are getting loud for carers. You can invite a political candidate to your National Carers Week event, post about carers on social media or set up a meeting with your local state member of parliament. There are so many ways to get involved. Click here for all the advice and resources you will need. 
We also have new sessions available for carers to register for our popular Carer Wellbeing and Connection program, with some sessions exclusively available for men undertaking a caring role. Scroll down to find out more, and don't forget to share it with anyone in eligible regions who might benefit from being part of the program.
Happy reading
The Carers Victoria Team 


Message from the CEO
Hello everyone,
Thanks to all our members who have taken up the challenge to get loud for carers in our Carers Count Too campaign. It was exciting to see the campaign kick-off for the pre-election period, and already we've had a number of our members call us for advice about how they can advocate for carers. We even got an article in the Herald Sun! Don't forget, there's still time to get involved. Here's hoping we can get some genuine and meaningful political commitment to better support for carers.
I was pleased to see that one of the 36 recommendations out of the recent federal jobs summit has a carer focus, with the government committing to immediately put in place a Carer Friendly Workplace Framework that includes a self-assessment tool and learning modules for businesses to be recognised as a carer friendly workplace. It is wonderful to see carers recognised in such a high profile – and multi-sector – summit.
We also have our launch event for National Carers Week at Luna Park coming up on Sunday 16 October. We've been able to gain exclusive access for the morning with around 800 carers and family members joining us to celebrate carers and the amazing work you do. For those who will be joining us, I look forward to seeing you there. (I will be the one refusing at point blank to go on the rollercoaster!)
Judith Abbott
CEO

Don't miss this opportunity to comment on Disability Legislation
Feedback from interested parties about the Victorian Government's draft release of the Disability Inclusion Bill is now open. This is a rare opportunity for carers to comment on the legislation and the degree to which it meets its primary purpose of promoting and advancing disability inclusion in Victoria.
Carers Victoria has advocated for reforms to disability legislation to formally recognise carers, and to enshrine in legislation that carers are included in state-wide and local advisory groups and planning processes so that their needs are better recognised and accommodated. Read our submission from the first round of public consultation here.
The proposed Disability Inclusion Bill does recognise carers (clause (m) of the Inclusion Principles states that "relationships between people with disability and their families, carers and other significant people are a crucial part of the lives of people with disability and should be preserved"). However, it stops short of requiring carers to be automatically included and represented in government planning and processes.
We would like the Bill to be amended to include these requirements and encourage carers (within the definition of the Carers Recognition Act (Vic 2012)) to respond to the review encouraging such a change.
Click here for some text you might wish to include if you were going to make a submission. You can make written submissions or upload a video or audio file. Submissions close on Monday 31 October.

Join us to celebrate National Carers Week
National Carers Week, from 16 to 22 October 2022, is a time for all Australians to recognise and celebrate the important contributions the 2.65 million unpaid carers make to their families and our community.
During National Carers Week we recognise the challenges carers face, the sacrifices they make and celebrate them. This year's theme "Millions of reasons to care" highlights the diversity of carers and their caring roles and is an opportunity to raise community awareness of the important role of carers among all Australians.
Celebrate National Carers Week by joining Carers Victoria in raising awareness of the extraordinary contribution of carers and sharing the "Millions of reasons to care" campaign. Don't forget to tag @CarersVictoria, #Carers2022 #MillionsOfReasonsToCare #CarersCountToo
See our events page to find an event during National Carers Week near you. Or submit your own event here. 

Let's Get Loud during National Carers Week
Join our campaign to advocate for better support for carers.
To really make carers count during National Carers Week 2022, we are calling for as many voices as possible to speak out, so that carers can be heard and acknowledged.
During National Carers Week, we are encouraging all who think that carers need better support to reach out to a politician, write a letter outlining the changes you want to see or invite them to a National Carers Week event.
See our website for more information about our advocacy campaign in the lead-up to the state election, which includes links to sample letter templates you can use to contact a state politician.

30 years, 30 stories: Andrea's story
This month we feature Andrea, who is another graduate from our Writing with Purpose program. 
After years caring for her husband, and being a mother and carer for seven children, Andrea has been able to set up enough supports to allow her to step back a little from her caring role.
"I had to find another me, but I was nowhere to be found," she says in her piece. "What I did find is a fantastic team of people to fill my role. The saying 'it takes a village' is quite fitting in this situation." 
You can also help Carers Victoria raise awareness of the extraordinary contribution of carers by sharing Andrea's story or any other story from our campaign. Don't forget to tag @CarersVictoria, #Carers2022 #MillionsOfReasonsToCare #CarersCountToo

Respecting and recognising carers from CALD backgrounds capacity building project
Ethnic Communities Council of Victoria (ECCV) has partnered with Carers Victoria to help improve the lives of carer groups from culturally and linguistically diverse (CALD) backgrounds.
Current research indicates that carers from CALD backgrounds are often underrepresented within carer support services, in addition to being at risk of isolation, economic insecurity and poor health.
By leveraging the multicultural community relationships of ECCV, alongside the subject and service expertise of Carers Victoria, this project aims to build skills and knowledge to help CALD carers access existing support services and share relevant knowledge with others in their network. 
The project seeks to improve outcomes for senior carers from culturally and linguistically diverse backgrounds by:
providing information about carer services
improving their capacity to access support services and resources
raising awareness about elder abuse in carer relationships, and
identifying issues affecting hidden carers within the community.
The project officer will meet with the carers group and/or carer group leaders to identify the needs of the group and the required capacity building support/ group sessions. The carer group can receive up to 10 group sessions.
Examples of carer groups sessions that can be delivered depending on the needs identified by the carers group include:
Support services for carers
Financial support for carers
Caring for yourself
Communicating with professionals
Legal session (wills, guardianship, power of attorney)
My Aged Care: Overview of the aged care system
NDIS: Overview of the NDIS
Elder abuse (respect, healthy relationships and safety of our elders)
Digital literacy
Social activities
Governance/ accessing funding (for group leaders)
Carer support group facilitator training (for group leaders)
Understanding the carer experience (for group leaders).
Do you have a carers group and are interested in accessing capacity building support/ group sessions? If yes,  please complete the expression of interest form.
Please note that carers or the people receiving care must be 50 years or over. Find out more about the project here. 

Do you need health information and advice in your language?
Multicultural Health Connect is a helpline that you can call to get health information and advice in your language from staff who understand your culture. The service is currently available only in Victoria.
You can call Multicultural Health Connect to:
find health services such as doctors, hospitals and community health centres
get health advice from a nurse
better understand Australia's health system, including Medicare and private health insurance
learn about COVID-19, including managing the disease, COVID-19 vaccines, isolation and close contacts.
Call 1800 186 815 between 11.30am to 8.00pm, 7 days a week, including public holidays.

Carers Victoria in the news
Carers Victoria has recently teamed up with Bank Australia to help spread the word about the important role of carers. 
Public information campaigns – including media releases, partnerships and stories – are used to shed light on what care work comprises. "We connect with organisations like Bank Australia to help get that message out about what a carer is," Judith says.

New edition of the Australian Carers Guide
The spring edition of the Australian Carers Guide is now available.
The magazine is an independent quarterly publication designed to support and inform today's primary carer. It offers unique insights, creative solutions and helpful perspectives that will make a real difference in your daily life.
The magazine is also available at your local newsagents for $9.95. If you prefer, you can have it delivered to your door by subscribing here.
Members of Carers Victoria will receive a free digital issue. Join to become a member, and access the digital edition for free. 

Do you have a story to tell?
Members of Carers Victoria are invited to share their story about life as a carer and submit it to be considered for our 30 years, 30 stories anniversary campaign.
You are welcome to write your story yourself or answer these questions, which we will use to write your story for you. Not all stories will be chosen for the website.
Topic: My carer story
Length: No longer than 400 words
Format: Type your story in an email or a Word document, or type your answers to the questions in this document. 
Need inspiration? See other stories that have been written here. 
Submission process: Please email your story to eBulletin@carersvictoria.org.au
What if your story is chosen? Your story will be edited and returned to you to make sure you are happy with the final version before it is published on our website.
If you have any questions, please email: eBulletin@carersvictoria.org.au We look forward to hearing your carer story! 

Victorian Sick Pay Guarantee
The Victorian Sick Pay Guarantee provides eligible casual and contract workers with a guarantee they will receive sick pay when they can't go to work.
No worker should have to choose between a day's pay and their health – or the health of a loved one. Sign up today, before you get sick. You must be signed up before you can claim sick and carer's pay.

Become a member and make a difference 
Become a member of Carers Victoria and join our community to help us make a difference in the lives of Victorian carers.
Membership is free and open to carers, former carers, supporters and Carer Support Groups.
Membership benefits include:
Exclusive invitations to events including our popular Mingle events, carer workshops and programs specifically designed for carers. 
Championing for real change through consultations, focus groups and research.
Staying informed with our monthly eBulletin The Voice, jam-packed with important carer issues, events and stories.
Free digital access to the magazine Australian Carers Guide.
Special member offers, including Hoyts movie tickets.
Free sign-up for individuals.


Online group for men: Carer Wellbeing and Connection
People who provide care for a loved one often experience loneliness and can feel isolated. For men undertaking a caring role, finding the right support and opportunities to share their experiences may be even more difficult. If this sounds familiar, the online Carer Wellbeing and Connection program may be right for you.
Register now for groups starting at the end of October 2022. Get in quick – places are limited! Mixed Gender groups are also available.

Bushfire planning for you and the person you care for
A free online workshop for carers by the Country Fire Authority (CFA) in partnership with Carers Victoria
Protect yourself and your loved ones this fire season. Join us to learn about bushfire preparedness with insights and considerations for carers. Learn what to include and consider for your bushfire survival plan. You will have the opportunity to ask questions, brainstorm ideas, and learn more about what you can do for yourself, your household, and the person you care for.
Session 1: Tuesday 11 October, 10.00am – 11.30am: Learn how to prepare your bushfire survival plan.
Session 2: Tuesday 25 October, from 10.00am: Discuss the details of your plan, ask questions, and brainstorm solutions together.

Support Services for Carers online workshop
This workshop provides information about the support services available to family carers and the service organisations which provide those services. It also includes information on the new Carer Gateway. It is open to people wanting to know more about the support services available for carers.
Topics will include:
The challenges facing carers
Support services available to carers through the Carer Gateway and the Victorian Support for Carers Program
Information on which organisations provide support across Victoria
The role of Carers Victoria.
When: Tuesday 25 October, 7.00pm – 8.00pm
Where: Free online workshop via Zoom

Come to the 2022 Victorian Carer Forum
The Department of Families, Fairness and Housing is hosting a Victorian Carer Forum on 4 October to thank unpaid carers across the state for their valuable contributions to the community.
Carers are invited to take a break, have a laugh and connect with other carers at this free event. Comedian Denise Scott will be the MC, and attendees will also hear from MPs Colin Brooks and Josh Bull. Carers Victoria CEO Judith will also be sharing insights from Carers Victoria's Covid-19 and Carers survey. 

Walking groups
Western Programs walking groups 

Carers in Brimbank, Hobsons Bay, Caroline Springs, Moonee Valley and Werribee are invited to come along to a walking group in your area. Catch up with other carers over a light brunch and find out about local supports and services for carers. Places are limited, so register your place now. 
Pathways for Carers walking groups: Victoria wide
Carers throughout Victoria are invited to attend walking events in their area to learn more about news, services, and supports available to carers.
Heart Foundation walking groups: Australia wide 
There's a reason why walking is one of the most popular forms of activity in Australia. Join a Heart Foundation walking group to reduce stress, be more alert, have a healthier body and build strong relationships.

Sector seminar network series 
Professionals working in support services for Victorian carers are invited to join the remaining sessions in the popular Sector Seminar Network series.
These evidence-based seminars are designed to increase your understanding of carers in key areas and will inform your current and future work by improving capacity in the delivery of carer services.
Coming up:
These free seminars are held via Zoom and are open to any paid or volunteer colleagues who are involved in the management, planning or delivery of services to carers.

Disability Expo in Langwarrin
Local disability expo in Langwarrin for carers, care recipients and service providers.
Victoria's caring community is invited to an informative and fun-filled afternoon at the Langwarrin Community Hall. During the expo, you can browse local provider services and listen to experts in the disability sector. There will also be entertainment throughout the afternoon.
Julie Fisher and Grace Professional Services are hosting the first local disability expo in Langwarrin. With the kind sponsorship of Austin Phillips from Ray White Langwarrin and with the support of Carers Victoria and Living on the Spectrum – Autism Directory and Neurodiversity Hub, Julie is very excited to be bringing this disability expo to you.
Date: Saturday 15 October
Time: 12.30pm – 5.00pm
Venue: Langwarrin Community Hall, Frankston/Cranbourne Road, Langwarrin


Calling all young carers
Does someone you know under the age of 25 care for a family member or friend? They are considered a young carer and Carer Gateway wants to hear from them! 
Carer Gateway is working on creating young carer practice guidelines for health professionals, co-designed with young people. They have created a survey for young carers to research their experiences to help guide the practice guidelines.
As thanks for their time, they will go in the draw to win a $100 prezzee voucher for self-care.

Exploring the impact of COVID-19 on the psychological wellbeing of carers of people living in aged care facilities
Are you a carer of a person in a residential aged care facility in Australia? Are you over the age of 18?
Researchers at Federation University are investigating the experiences of informal caregivers amid restricted access to their care recipient in a residential aged care facility. They are particularly interested in understanding how these restrictions have affected your wellbeing as a carer.
If you agree to participate in this study, you will be required to attend an online interview to be held at a mutually agreed time. The interview is expected to last between 45 and 60 minutes via Zoom or any online platform.
If you have any questions or would like to express your interest in participating, please email Dr Bindu Joseph: b.joseph@federation.edu.au