'The Voice' Blog April 2023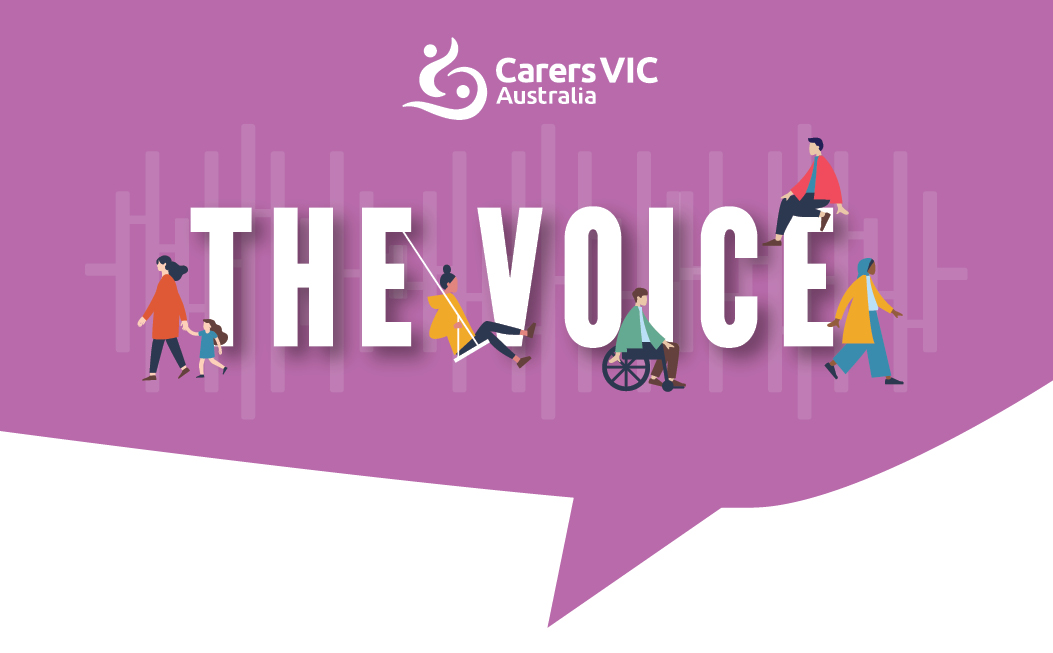 Welcome to the April Edition of The Voice
It was great to meet so many carers at our sold-out Member Family Day event at the Melbourne Zoo last month. Check out the wrap-up and some snaps from the day in this edition of The Voice.
If you missed out on a ticket to our Member Day Event at the Zoo, and are keen to re-connect in person, please look out for an invitation to our upcoming Mingles program. Scroll down for more detail.
One of the things Carers Victoria has been exploring is where there are new opportunities to partner with organisations that provide benefits to carers directly and support Carers Victoria too. We are therefore thrilled to announce a new partnership with Live Life Foods which will enable interested carers to access discounts and exclusive offers for their high-quality, home-delivered meals.
Our carer story this month features Joanne, who shares her experiences as a dual carer for both her son and partner. Thanks for sharing your story, Joanne, which reinforces the need for universal recognition and support of those in caring roles.
There's more below, please wander through!
Happy reading
The Carers Victoria Team 


Message from the CEO
Hi everyone,
I am very much looking forward to the chance to connect with some of you over the coming few months as we roll out our annual program of Mingles. We always have much more demand for our events than we can meet, so we are at the very start of a process of looking at how we can adapt our program of events, education, and other activities so that more carers can participate across the State, including more rural and regional opportunities.
I'm also hoping I might get the opportunity to host some local coffee catch-ups for carer support group members over the coming months – while I know it's often tough for carers to step away from their care responsibilities (and I have some of my own to balance, too), I'm keen to take whatever chances we can find to catch up and share our ideas.
Alongside our current focus on events and connection, Carers Victoria has also been looking at how we can supplement existing funding to support more activities, events, and assistance for carers. We very much appreciate the support we get from government funding and existing donors, but we want to expand on this as there are so many carers who need that support and connection, and we want you to get the assistance you need in your caring role.
These are exciting times as we look to find ways of reaching and assisting more carers across the state as we continue to work and advocate for change that helps ensure all unpaid carers are recognised, valued, and supported – wherever they live, and whatever their care relationship.
Judith Abbott
CEO

Connecting to enhance our support for multicultural carers
Did you know that in the Arabic, Macedonian and Sri Lankan languages there is no direct translation for the word 'carer'?
On 30 March 2023, senior staff from both Carers Victoria and Australian Multicultural Community Services (AMCS) got together to explore potential strategies to enhance the support available for multicultural carers. As part of that, we explored some of the challenges specific to multicultural communities where the concept or language of 'carer' doesn't really exist.
In thinking about what we might do together to improve support for multicultural carers, we explored a range of practical and aspirational ideas, many of which were echoed or built upon at the Ethnic Communities Council of Victoria (ECCV) / Carers Victoria forum held on 4 April 2023, which also focussed on Recognising and Respecting Carers from culturally and linguistically diverse backgrounds.
With over 80,000 Victorians from culturally and linguistically diverse backgrounds providing unpaid care across our state, continuing to drive more inclusive and culturally sensitive approaches to ensure they access the support they need is a priority for us all – and it's great to have the opportunity to connect and collaborate with so many willing partners, including AMCS and ECCV.
Watch this space!

Upcoming Partnership with Live Life Foods
Carers Victoria will be partnering with Live Life Foods to provide high-quality nourishing meals for carers and/or their care recipients.
Our commitment to supporting carers has led to this special collaboration with Victoria's newest home meal delivery service of affordable and healthy eating options.
Live Life Foods prides itself on the freshness and restaurant quality of its meals, whilst ensuring the meals meet the daily nutritional requirements of Victoria's seniors. The range was developed for the over 65s in accordance with Nutrition Professionals Australia (NPA) to ensure the robust industry guidelines for protein and energy are met each day.
Live Life Foods is also the first of its kind to offer access to multiple brands across its platform to be delivered into homes. As part of Carers Victoria's partnership with Live Life Foods, you will also have access to the Dineamic and SPC Food Solutions range. These brands offer additional flexibility to suit a variety of nutritional requirements and are in line with the Australian Dietary Guidelines.
Please keep your eyes out this month for an email from Carers Victoria that will provide all the details required to gain access to exclusive deals and discounts with Live Life Foods.

Upcoming Mingle Event in your area
It's almost time to start Mingling!! Our Events team is hard at work this month, finalising venues and entertainment for our upcoming Mingles program. This year we will be hosting eight separate events in various locations across the state. Mingles offers a great opportunity to find out more about carer services in your local area, reconnect with other carers and take a break to prioritise your wellbeing.
These member-only events do sell out fast so please be on the lookout for your email invite! Also, please be sure to share this news with any carers that might not be a member of Carers Victoria. Becoming a member is the only way to gain access to these events, so please ensure that anyone interested signs up now.

Members Day Event at the Melbourne Zoo
Thank you to everyone who joined us at our Members Day Event at the Melbourne Zoo in March. The day fostered a sense of community for members and provided a platform where carers learned more about the supports available, enjoyed time together with family and treated the kids to face painting and popcorn. Over 300 carers and their families visited us at the Leopard Lodge for the wonderful day of carer connection. Thanks to all who had a chance to join and a special thanks to the Carer Gateway for sponsoring the event.


Carer Advisory Service
Carers Victoria's Carer Advisory Service is a free, phone advice service 1800 514 845 that provides anyone in a care relationship with information, advice, and help in accessing a range of carer-specific services. Anyone can contact it, regardless of where they live in Victoria or the nature of their care relationship/s.
It was developed in response to advice from carers that a major challenge they experience in navigating multiple service systems, for themselves and the people they care for. The Carers Victoria Advisory Service is staffed by experienced and qualified Carer Support Advisors, and provides a source of timely, clear and expert advice on a wide range of topics from navigating service systems to providing referrals to respite and support services across Victoria. This includes helping carers connect to Victorian Government funded carer programs, the Carer Gateway, My Aged Care and NDIS.
Demand for this service has grown exponentially since it was established, with a 34% increase in the last three months alone, so Carers Victoria is exploring whether there are partner organisations and/or fundraising strategies that can help meet the demand as we know just how important this service is – and partnerships with new organisations in different parts of our community offer us opportunities to building understanding and support for carers more broadly across Victoria.

Assistance for Isolated Children Scheme
The Assistance for Isolated Children Scheme is a group of payments for parents and carers of children who can't go to a local state school. This could be because of geographical isolation, disability, or special needs.
The program provides those eligible with access to one of the following allowances:
Boarding Allowance
Distance Education Allowance
Second Home Allowance
Pensioner Education Supplement.
Which allowance and the amount of assistance depends on the student's living arrangements during the school year and the number of eligible children in the family.
To determine eligibility, and to gain access to a step-by-step guide on how to make a claim please visit the Services Australia Website Assistance for Isolated Children Scheme - Services Australia.

Cheaper Regional Fares Now in Effect
The Victorian Government is impacting the way Victorians travel within the state, with a regional fare cap now in effect to ensure regional public transport fares are in line with metropolitan prices.
The cost of a daily ticket on the entire regional Victorian network is now capped at the same prices as metropolitan daily fares – currently $9.20 for a full fare or $4.60 for a concession. On a weekend or public holiday, daily fares are capped at $6.70 and currently just $3.35 for concession.
That means more money in the pockets of regional Victorians, and more opportunities for Melbournians to explore everything Victoria has to offer. It also ensures families living in rural and regional Victoria can visit loved ones, and access health and education services in other regional cities and in Melbourne.
For those who take long-distance V/Line journeys, the regional fare cap can save people more than $40 for every one-way journey on the regional public transport network.
For more information or to purchase tickets visit vline.com.au or ptv.vic.gov.au.

Carer Story: Joanne's Story
Joanne is a dual carer who supports her son as well as her spouse. Until she really needed help, she didn't know how many services were available for carers. "The grief counselling through Carers Victoria is unbelievable," she says, "and I still seek ongoing psychological support to this day."
Do you have a story to tell?
You are welcome to write your story yourself or answer these questions, which we will use to write your story for you. Not all stories will be chosen for the website.
Topic: My carer story
Length: No longer than 400 words
Format: Type your story in an email or a Word document, or type your answers to the questions in this document. 
Need inspiration? See other stories that have been written here. 
Submission process: Please email your story to eBulletin@carersvictoria.org.au
What if your story is chosen? Your story will be edited and returned to you to make sure you are happy with the final version before it is published on our website.
If you have any questions, please email: eBulletin@carersvictoria.org.au 
We look forward to hearing your carer story! 

Employment, Education and Training Opportunities
Carers Victoria currently has a number initiatives underway to support carers who wish to enter/re-enter paid employment, vocational training and education.
If you would like further information or would like to discuss your situation or explore your options, please email employment.support@carersvictoria.org.au with your contact details and we will be in touch.

Become a member and stay connected
Become a member of Carers Victoria and join our community to help us make a difference in the lives of Victorian carers.
Membership is free and open to carers, former carers, supporters and Carer Support Groups.
Membership benefits include:
Exclusive invitations to events including our popular Mingle events, carer workshops and programs.

Championing for real change through consultations, focus groups and research.

Staying informed with our monthly eBulletin The Voice, jam-packed with important carer issues, events and stories.

Free digital access to the magazine Australian Carers Guide.

Special member offers, including Hoyts movie tickets.

Featured Provider of the Support for Carers Program
LINK
'Thank you for Caring' initiative by LINK Community & Transport
LINK Community & Transport, a leading non-profit organisation dedicated to providing in-home, assisted mobility and community services to older and vulnerable members of the community, continues to recognise the thousands of Victorian unpaid carers (partners, family, friends and neighbours) by offering them some well-earned time off through its highly successful outings program.
Backed by the Victorian Government Support for Carers Program, LINK provides a suite of premium outings for carers to experience and enjoy. From boat trips in Geelong, theatre experiences in Melbourne to exploring historic regional centres – there is something for everyone with exciting activities running nearly every day. The outings program creates connections and conversations with other carers, and advice from LINK's professional support staff.

Support for Carers Program
The Support for Carers Program provides respite, other services, and supports for all Victorian carers. Carers Victoria is a provider of the Support for Carers Program for carers in the Western Metropolitan region of Melbourne and is supported by the Victorian Government.


Calling all male carers
Carer Wellbeing and Connection – Online Group
We know that people who provide care for a loved one often experience loneliness and can feel isolated. If this sounds familiar, the Online Carer Wellbeing and Connection program may be right for you. In response to requests from our male carers, we are offering a group for men only.
It consists of a series of five online therapeutic group sessions designed to help you better understand connectedness and personal wellbeing. If you live in the North Western metro region, you can register your interest for a Male Only group commencing in May 2023.
Get in quick – places are limited!

Carers Victoria Workshops
We offer a wide range of workshops for carers and service providers.
Our workshops for carers support you to:
Develop skills to support your caring role;
Gain knowledge to navigate complex support service systems; and
Enhance your health and wellbeing.
Check out what's on in April.

LGBTIQA+ Carers Group
FREE sessions for 2023 by Carers Victoria and Queerspace
Are you an LGBTIQA+ carer providing unpaid care for a parent, partner, sibling, housemate, or friend?
Sign up for free sessions where you'll meet new people, have a chance to relax, and get access to information and referrals. The aim of the group is to provide a space to relax and unwind, build knowledge and understanding and connect socially with other LGBTIQA+ carers.
Booking Information 
To secure your place, phone 9663 6733 or email qsgroups@ds.org.au.
You can come to as many sessions as you want!

Little Dreamer's Peer Support Program
The Peer Support program, led by passionate Little Dreamers' facilitators, provides a space for young carers aged 25 and under to connect and develop a sense of community.
As part of this program participants will have the opportunity to connect with people in similar circumstances, learn from peers through the sharing of lived experience and participate in fun icebreakers and activities to get to know each other better and share some laughs.
Sessions will be running in School Term 2 on Tuesday afternoons in Footscray.
An online program delivery is also available.
For more information, please email alma@littledreamers.org.au or phone (O3) 7O67 8668.

Carer's Circle
Join us for a catered morning tea courtesy of Carers Victoria!
Peter MacCallum Cancer Centre's Carer's Circle is a support group for people caring for someone with cancer. Each session is different with guest speakers talking about a range of topics designed to help you to look after yourself while caring for someone with cancer.
All carers are welcome to come along, have a cuppa, and connect with other carers.
With density limits still in place, please register to attend these sessions of Carers Circle in person as numbers are limited.
When: Wednesday 19 April
Time: 11.00am - 12.30pm
Where: In person at the Peter MacCallum Cancer Centre - Level 1, Wellbeing Centre
305 Grattan St Melbourne VIC 3000

Walking groups
Western Programs walking groups 

Carers in Brimbank, Hobsons Bay, Caroline Springs, Moonee Valley and Werribee are invited to come along to a walking group in your area. Catch up with other carers over a light brunch and find out about local supports and services for carers. Places are limited, so register your place now. 
Pathways for Carers walking groups: Victoria wide
Carers throughout Victoria are invited to attend walking events in their area to learn more about news, services, and supports available to carers.
Heart Foundation walking groups: Australia wide 
There's a reason why walking is one of the most popular forms of activity in Australia. Join a Heart Foundation walking group to reduce stress, be more alert, have a healthier body and build strong relationships.


Express your interest in joining a research workshop
Carers' quality of life
The University of Melbourne School of Population and Global Health is seeking parents of children with disability (all ages and backgrounds) to attend a half-day workshop on the 27 April 2023.
The aim of the workshop is to understand the impact that health interventions have on your quality of life and caring role. The findings from this workshop will be used to develop a research agenda that aims to shift the way unpaid care for a child with disability is recognised by policy makers and Governments.
The workshop will include a catered lunch and you will be renumerated in the form of a sitting fee and travel expenses.
Please email your contact details to: quokka-research@unimelb.edu.au if you are interested in participating and would like to be contacted with further information.

Undergraduate Certificate Of Health Care Essentials
The Undergraduate Certificate of Health Care Essentials develops knowledge and skills in client care, such as understanding different healthcare settings and roles, considering diverse care needs, and improving client safety and developing future career community innovations.
This course is delivered fully online, combining the quality of a Monash qualification with the flexibility required by working professionals or those with caring responsibilities. Whether you're looking to start your career in the care sector, extend your practice, or move into a senior role at work, this course will equip you to meet the diverse care needs of people in the local community.
Monash University is offering study grants for this course, so students will not be required to pay a student contribution amount for enrolled units in 2023. With an Undergraduate Certificate of Health Care Essentials, you may be eligible to apply for our Bachelor of Health Sciences.
Contact details
Phone: 1800 MONASH
Email: future@monash.edu


Carers have expressed that they would like to hear more about job opportunities, and we have heard you. As part of our role to support carers, our Jobs Board will operate as a convenient and easy-to-use platform for you to explore employment opportunities that are relevant to you and across various geographic locations. This space is updated monthly.
Family Carer Led Centre – South East Melbourne
Make a difference in the new Family Carer Led Centre in the Southeast of Melbourne. The Royal Commission into Victoria's Mental Health System has created opportunities to think beyond current ways of doing things to deliver a new mental health system.
The FCLC is seeking expressions of interest for a variety of full and part-time staff including:
Carer Peer Workers
Lived and Living Experience Team Leader
Social Worker / Counsellor
Carer Center Design Advisory Group
To receive a position description and/or if you would like to discuss the opportunity before expressing interest, please email smcintosh@starhealth.org.au
Accor
Accor has created a recruitment program called "Work Your Way", which offers multiple employment opportunities across Victoria that are flexible for carers.