'The Voice' Blog June 2023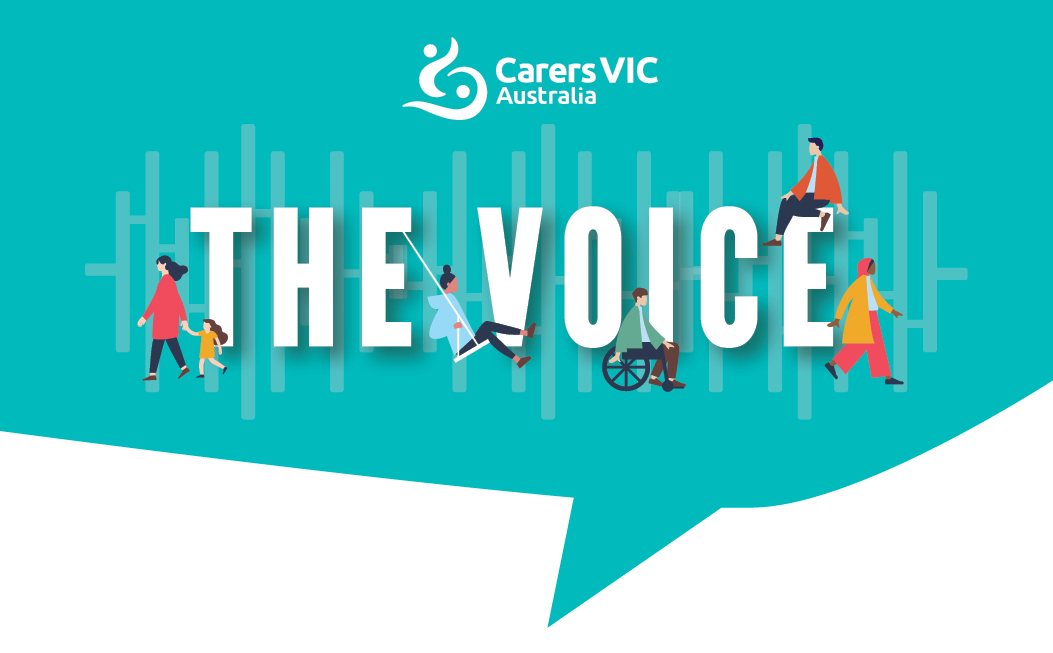 Welcome to the June Edition of The Voice
It is hard to believe that we are nearly halfway through the year, and what began as a very busy year, shows no sign of slowing down. We are anticipating that the second half will be just as active!
In this June edition, we continue to unpack opportunities and insights for carers, as well as present you with lots of events for you to attend to re-energise and reconnect with other carers.
We profile another special carer this month, this time, our very own Michelle, who is our Marketing Co-Ordinator extraordinaire. In this story, Mich reveals the challenges, heartache and emotion around caring for her quadriplegic mum.
We also reveal what last month's State Budget included for carers and while there were elements of breakthroughs, we look forward to continuing to work with the State Government to ensure carers' needs are met.
We hope you enjoy this latest edition of The Voice.
Happy reading
The Carers Victoria Team 


Message from the CEO
Hello everybody,
It has certainly been a busy, fruitful, and joyful last few weeks where I was able to continue connecting with carers around the state.
I also had the unique opportunity to get a sneak peek at the State Budget, where a handful of organisations and media were literally 'locked down' in Melbourne, with mobile phones taken away and given the budget to peruse and unpack.
It was certainly not for light reading, but we were able to go through the budget and highlight what was relevant to you, the carer.
We were pleased to see funding for respite maintained in what has been a very tight state budget, as this is an important recognition of just how critical this support is for Victorian unpaid carers.
However, we were disappointed to see that public transport concessions will not continue for Carers Card holders. We will continue to advocate to the government for policy and program changes that help better support carers in their role, including advocating for concessions that can be particularly valuable for those carers experiencing financial stress.
Please read on for our budget wrap in the newsletter.
We have had some tremendous feedback from carers with our Mingles events in Epping, Cranborne, Shepparton, Geelong and Werribee. It has been a wonderful opportunity to reconnect with carers and service providers around the state.
It was a great time for conversations, connections, sharing information and well-needed laughs along the way.
We are very much looking forward to upcoming Mingles events in Bairnsdale, Bendigo and Croydon. We hope to see you there.
We know and respect that for the thousands of regional carers, it can be really challenging to access assistance as and when they need it. As part of an approved Regional Engagement Strategy, the Carers Victoria Board is committed to expanding its work and engagement with carers across Victoria. Mingles is just one part of it. Stay tuned for more announcements.
Judith Abbott
CEO

Carers Victoria Supporting The Voice to Parliament
The Board of Carers Victoria has recently approved the following public statement of support for the Voice, in line with its broader commitment to the process of reconciliation.
Carers Victoria supports a constitutionally enshrined Voice to Parliament for First Nations peoples.
We recognise that First Nations peoples have an enduring connection to land, waters, and community throughout Australia and that sovereignty was never ceded.
We also acknowledge and celebrate the critical role that carers play in First Nations communities and the remarkable contributions they make across our country.
Carers Victoria understands the importance of formally recognising the First Nations peoples of Australia and providing a means for them to inform decisions that impact their lives. The proposed changes to the Australian Constitution would enable both.
Creating a Voice to Parliament is an important step for First Nations peoples on the long road to full recognition. Carers Victoria proudly walks alongside both First Nations carers and all other members of their communities on this path.

Victorian 2023-24 State Budget
The Victorian 2023-24 State Budget has delivered mixed outcomes for Victoria's carers.
The budget included information about a range of carer supports and programs that had been due to lapse in June 2023:
Funding for additional respite will continue for four years. This will provide approximately 5,000 carers with access to respite across the state.
Unfortunately, the public transport concessions currently available to Carers Card holders will not continue beyond the end of June 2023.
The Carer Employment Support Program won't receive further funding, hence is expected to cease at the end of 2023.
The Budget also delivered on an election commitment to provide additional support for students with disability and their families and carers. This included funding for NDIS navigators and Out of Hours Care in specialist government schools as well as other initiatives.

Let's keep mingling!
Carers Victoria hosted our popular Mingle events in May and continuing into June 2023. More than 600 carers have attended or booked to attend the eight Mingle events across metro and regional Victoria in Cranbourne, Epping, Shepparton, Geelong, Werribee, Bairnsdale, Bendigo and Croydon.
Carers enjoyed conversation with Carers Victoria's CEO Judith Abbott and Board Directors, played fun top and tail trivia, were treated to a delicious high tea, delighted in the musical talent of singer Michelle Parsons, learnt about local services and supports from exhibitors and connected with other local carers.
We thank all our special guest exhibitors: Estia Health, Independence Australia, Each, Live up, Australian Multicultural Community Services, Carer Gateway, COTA, Connecting 2 Australia, Medline Australia, East Gippsland Shire Council, Arcare, Elder Rights Advocacy, Latrobe Community Health Service and Care with Quality.
Thank you to all the carers for coming out and seeing us at Mingle 2023.


Young Carer Scholarships
Carers Victoria is proud to offer Young Carer Scholarships to 115 deserving young carers, with generous support from The Collie Foundation. The secondary school students from across the state will utilise their scholarships for a range of items including school equipment or programs, sports, art, musical or community activities and driving lessons.
The Program acknowledges young carers for their valuable contributions to their family and our community by offering opportunities and new experiences; supporting and furthering their education; assisting in maintaining their support network with friends; and alleviating financial stress at home.
The 2023 Young Carer Scholarship Program celebrated 16 years of supporting young carers and has proudly supported 2,146 young carers over this period. The Young Carers and their families are invited to the Young Carer Scholarship Ceremony in July to receive their award.

Carer Story: Michelle's Story
For seven years, Michelle was a fulltime carer to her beautiful mum, Greta, who had been involved in a horrific car accident in 2014, leaving her a quadriplegic.
Michelle's role as a carer was mammoth, no question, and a typical day for Michelle for her mum, was a 24-hour cycle of responsibilities that were methodical and complex, yet vital to Greta's survival and comfort.
"From the four hourly position readjustment in bed and tracheostomy inner value replacement, administering medication, emptying stoma bags and suprapubic catheters twice daily, bathing, ordering supplies and medications to moisturising skin, setting daytime positions in bed and massaging muscles, the days and nights melted into one to keep mum clean, comfortable and happy." Michelle said.

Do you have a story to tell?
You are welcome to write your story yourself or answer these questions, which we will use to write your story for you. Not all stories will be chosen for the website.
Topic: My carer story
Length: No longer than 400 words
Format: Type your story in an email or a Word document, or type your answers to the questions in this document. 
Need inspiration? See other stories that have been written here. 
Submission process: Please email your story to eBulletin@carersvictoria.org.au
What if your story is chosen? Your story will be edited and returned to you to make sure you are happy with the final version before it is published on our website.
If you have any questions, please email: eBulletin@carersvictoria.org.au 
We look forward to hearing your carer story! 

Carer Advisory Service
Carers Victoria's Carer Advisory Service is a free, phone advice service. One that provides anyone in a care relationship with information, advice, and help in accessing a range of carer-specific services. Anyone can contact it on 1800 514 845 between 9.00am - 5.00pm, Monday to Friday, regardless of where they live in Victoria or the nature of their care relationship/s.
It was developed in response to advice from carers that a major challenge they experience is navigating multiple service systems, for themselves and the people they care for. The Carers Victoria Advisory Service is staffed by experienced and qualified Carer Support Advisors, and provides a source of timely, clear and expert advice on a wide range of topics from navigating service systems to providing referrals to respite and support services across Victoria. This includes helping carers connect to Victorian Government funded carer programs, the Carer Gateway, My Aged Care and NDIS.
Demand for this service has grown exponentially since it was established, with a 34% increase in the last three months alone, so Carers Victoria is exploring whether there are partner organisations and/or fundraising strategies that can help meet the demand as we know just how important this service is – and partnerships with new organisations in different parts of our community offer us opportunities to building understanding and support for carers more broadly across Victoria.

Australian Carers Guide's Winter Edition Is Out Now!
Carers Victoria is featured in the Winter edition of the Australian Carers Guide.
The Australian Carers Guide is circulated to more than 80,000 readers and subscribers and it is the go-to magazine for unpaid carers of older persons around the country.
In this issue, we break down the value and importance of carer support groups. From emotional support, receiving practical information and creating new friends, carer support groups are often the precious thread that ties carers together who may feel socially isolated.
The winter edition of Australian Carers Guide is choc-a-block with a suite of stories and insights for those caring for older Australians.
The cover story is all about colour and how colour can brighten your world, especially during the colder months. This edition also features part two of Ita Buttrose's interview, carer payments explained and home care packages – the tips and traps.
We are excited to continue to offer our members a free subscription to this valuable resource of helpful information and practical advice. Click HERE to receive your FREE subscription to the latest edition of the Australian Carers Guide.
Australian Carers Guide is produced four times a year and has been created to support carers like you, who are caring for an older person.
If you prefer to read it in print, then you can buy the magazine at your local newsagent for just $9.95. You also have the option to subscribe and pay to have it delivered to your door. Subscribe now and save by clicking HERE.

Our New Partnership Live Life Foods
Last month, Carers Victoria kicked off a new partnership with Live Life Foods which provides high-quality nourishing meals for carers, as well as their care recipients.
Live Life Foods are not only delicious but also meet the daily nutritional requirements for Victorians over the age of 65 in accordance with Nutrition Professionals Australia (NPA).
There are heaps of dishes to choose from, check out the options. As a Carers Victoria member, you can gain access to exclusive deals and discounts. It's that simple!
Competition Winner
We had a great response to last month's competition where you had a chance to win a month of two-course meals. We are pleased to announce that Rachel D from Essendon is the winner!

Featured Provider Supporting Carers
Seniors Rights Victoria (SRV)
SRV is a program of COTA Victoria and the key state-wide service dedicated to advancing the rights of older people and the early intervention into, or prevention of, elder abuse in our community.
SRV has a team of experienced advocates, lawyers, and social workers who provide free information, advice, referral, legal advice, legal casework, and support to any Victorian aged 60 and above, or to any Indigenous Victorian aged 45 and above.
SRV supports and empowers older people through the provision of legal advice directly to the older person, advocates for policy changes and law reform, and offers community and professional education.
SRV is a key driver of World Elder Abuse Awareness Day (WEAAD) events across the state. WEAAD takes place yearly on 15 June. For more information about the event and the 'Stir A Cuppa' event near you, visit the WEAAD website.
SRV, COTA Victoria and partner the Municipal Association of Victoria will highlight elder abuse awareness, supports, and WEAAD through its upcoming 'Older, Not Alone' campaign. The campaign is designed to highlight the increased pressures experienced by older Victorians over winter. More importantly, it will make our most vulnerable cohort aware of the range of resources and support schemes that are already available to them. Learn more at the Older, Not Alone website.
Phone the SRV Helpline on 1300 368 821 or visit the Seniors Rights Victoria website and they may be able to assist you on matters specifically related to elder abuse.

Complimentary Passes
A new documentary, 'Because We Have Each Other'
The makers of an insightful and raw documentary, 'Because We Have Each Other' is offering two double passes to Carers Victoria's members.
Made over five years, the documentary is a delightfully hyper-intimate feature from award-winning Australian Director Sari Braitwaite. The film embeds its audience in the life of a neurodiverse family in the working-class suburb of Logan, Queensland.
It is a melting pot of emotion, humour, drama and vulnerability.
If you are interested in watching 'Because We Have Each Other', send an email to Lucie McMahon lucie.cinemaplus@gmail.com by 14 June for the chance to win a double pass for the 18 June screening of the documentary.
An information hub for women who are carers, and employers
Carers Australia's 'Women Who Care' Project
It can be challenging for women to work, study or volunteer while also providing care. It can also be confusing for employers to know how to adjust so that carers feel supported and able to work. This information hub provides information, resources, and opportunities for both carers and employers.
Carers Australia have a suite of resources, information and links to support women who care and employers.

New Support For Carers of People with Mental Health Challenges in Melbourne's South East
In recognition of the Mental Health Royal Commission findings which identified the need for carers to have their own services and space, Better Health Network, in partnership with Berry Street and Victorian Aboriginal Child Care Agency, is pleased to announce they are offering support for carers across Southeast Metro through the Family and Carer-led Centre.
This is an exciting opportunity to deeply engage and understand the needs of carers, family and kin of people living with mental illness across the region, with lived experience at the centre of service design.
The Family and Carer-led Centre is established for carers who support people who experience mental health and or substance use challenges.
Service offerings will be rolled out in a staggered approach across the catchment area as they grow our workforce and locations.
Initially the Family and Carer-led Centre will offer telephone and virtual-based peer supports, including connections and service navigation, commencing on Monday 29 April 2023.
They are providing this start-up service to ensure carers have access to the support they need as they build and expand across the Southeast catchment area.
Carers do not need a referral; geographical boundaries will not impact a carer from accessing the service.
Initial operating hours
Monday to Friday 9.30am – 4.30pm
Phone 03 9066 1500
Email carerscentre@starhealth.org.au

Become a member and stay connected
Become a member of Carers Victoria and join our community to help us make a difference in the lives of Victorian carers.
Membership is free and open to carers, former carers, supporters and Carer Support Groups.
Membership benefits include:
Exclusive invitations to events including our popular Mingle events, carer workshops and programs.

Championing for real change through consultations, focus groups and research.

Staying informed with our monthly eBulletin The Voice, jam-packed with important carer issues, events and stories.

Free digital access to the magazine Australian Carers Guide.

Special member offers, including Hoyts movie tickets.


Featured Workshop
Mental Health First Aid Two-Day Course for Carers – Western Program
A FREE event for carers living in Melbourne's west by Carers Victoria
Are you a carer living in Melbourne's west and caring for someone who is living with mental illness?
Carers Victoria invites you to a free two-day course, delivered by Australia Red Cross, providing skills and tools for you to assist your care recipient if they're experiencing a mental health crisis.
Mental Health First Aid (MHFA) teaches participants how to assist people who are developing a mental health problem, experiencing a worsening of an existing mental health problem, or in a mental health crisis, until appropriate professional help is received, or the crisis resolves.
This course is designed for adults, over 18 years, interested in gaining skills in:
Recognising mental health warning signs and risk factors
Understanding risk factors for mental health problems
Awareness of evidence-based medical, psychological, and alternative treatments
How to give appropriate initial help and support to someone experiencing a mental health problem
How to take appropriate action if a crisis arises.
When:
Day 1 Thursday 29 June 2023
Day 2 Friday 30 June 2023
Time: 9.00am – 3.30pm
Where: Once you have registered, we will email you the details of exactly where to meet
This two-day course is catered with morning tea and lunch provided. Attendance is FREE, but registration is essential. Registrations will be closed when all places are filled. This event is ONLY open to carers.
Please note the course consists of two 6.5 hours sessions. Attendance is required for the entire 13 hours. Each session is 6.5 hours, with 30 mins for lunch as well as breaks for morning and afternoon tea.

Carers Victoria Workshops
Group Bookings
Carers Victoria provides education sessions to groups of ten or more carers, both online and at your venue.
We are introducing changes from 1 July 2023. These changes aim to improve equity and access for carer groups, while also ensuring Carers Victoria covers our costs where groups have the capacity to pay. We continue to be committed to accessibility, therefore unfunded groups that are volunteer-run will continue to access education for free. Our popular session Support Services for Carers is also free to all groups (noting we will charge travel for funded groups).
If you have any questions, or to book your session, email education@carersvictoria.org.au or phone us on 1800 514 845 (select option 2 from the menu).
Carer Workshops
We offer a wide range of workshops for carers and service providers.
Our workshops for carers support you to:
Develop skills to support your caring role;
Gain knowledge to navigate complex support service systems; and
Enhance your health and wellbeing.
Check out what's on in June and July.

Writing with Purpose: Three-Part Program
A FREE online program for carers by Carers Victoria
It was a wonderful series... it was truly inspiring - and I am leaving the series [program] feeling like I can do it. I don't need to be an expert writer to tell my story, and I do have a story to tell. I am excited about what is to come for me, I feel like there has been a fire lit within me, and words are tumbling out from within. I look forward to sharing them with everyone.
This glowing testimonial from one of the last participants in Carers Victoria's 2022 Writing with Purpose program says it all. Given this success, we are delivering the program again in August 2023.
Are you interested in building your skills and confidence to write your story? Would you like to share your story with other carers, and see it published in Carers Victoria's marketing materials?
Stories can be a powerful tool to bring about both small and significant changes to the systems that affect our lives. They can bring comfort and help build communities among people with shared experiences, and hold people in power to account. Writing your story can also be a great way to process complex life events, like taking on a caring role.
Through this program, we will support you to write your personal carer story. You don't need any writing experience, just the motivation to work at it and a willingness to share your experiences with other carers.
Who should attend
To express your interest in Writing with Purpose, please respond to the questions when you register. Please note, the program is for carers only and places are limited. We will be in touch with you should your application be successful.
Writing with Purpose is a three-part program encompassing the following themes:
Session 1 - Putting Pen to Paper
Getting started and basic skills for writing your story
Thursday 10 August 2023
10.00am - 1.00pm
Session 2 - The Power of Storytelling
The wellbeing benefits of storytelling and the value of sharing stories
Thursday 17 August 2023
10.00am - 1.00pm
Session 3 - Storytelling for Change
Using your story to influence social change
Thursday 24 August 2023
10.00am - 1.00pm
Please note: Places are limited. Your Expression of Interest should be submitted by Friday 22 July 2023. If successful, you will hear back from us by close of business Tuesday 1 August 2023.

Walking groups
Western Programs walking groups 

Carers in Brimbank, Hobsons Bay, Caroline Springs, Moonee Valley and Werribee are invited to come along to a walking group in your area. Catch up with other carers over a light brunch and find out about local supports and services for carers. Places are limited, so register your place now. 
Pathways for Carers walking groups: Victoria wide
Carers throughout Victoria are invited to attend walking events in their area to learn more about news, services, and supports available to carers.
Heart Foundation walking groups: Australia wide 
There's a reason why walking is one of the most popular forms of activity in Australia. Join a Heart Foundation walking group to reduce stress, be more alert, have a healthier body and build strong relationships.


Lived/Living Experience Community Reference Group
Family and Carer-Led Centre – Western Metro
Jesuit Social Services has been funded to deliver the Family and Carer-led Centre in Western Melbourne. This exciting initiative will provide a welcoming space where family, carers, and supporters of people who are experiencing mental health challenges, and/or substance use issues can connect with others and access information advocacy and support.
Jesuit Social Services' Family and Carer-led Centre will be led by the experiences of people who have lived/living experience of supporting someone with mental health challenges and/or substance use challenges and we are seeking carers and supporters from Western Melbourne to join us on a Community Reference Group.
Who can apply to join the Community Reference Group?
Families, carers and supporters of someone with mental health and/or alcohol and drug challenges.
People who are aged 18 years and over.
People who live in Melbourne's Western metropolitan region.
We are particularly looking for people who:
Have an interest in improving the health and wellbeing of families/carers
Are committed to being involved for at least six months.
Can participate in regular meetings (either in person at our Sunshine office or via Zoom)
Can communicate respectfully with people from diverse backgrounds.
What will Community Reference Group members do?
Participate in regular meetings (fortnightly for the next 3-6 months)
Share ideas on the design of the Centre and the services it delivers.
Will Community Reference Group members be paid?
Yes, Community Reference Group members will be compensated for their time.
Register
If you are interested, please email familycarerledcentrewesternmetro@jss.org.au. Please make sure you include: your name, your contact details and why you would like to be involved.
Research Project – Looking for Volunteers
Joy of Moving in Australia
Do you have a child in Prep to Grade 3? If so, Monash University would love for you to consider participating in its study.
The Joy of Moving in Australia research program was developed with the aim of helping children realise the benefits of moving, increasing their motivation to become more active. The current study aims to co-design the next phase of the program and involves gaining an understanding of you and your child's perspectives and experiences of movement and emotional literacy at school.
Parents can participate by attending one focus group, in person or online to discuss their experiences and perspectives of emotional literacy and how existing JoM resources could be further strengthened.
For further details on this research, please contact Dr Ana Mantilla via email. 
Online Survey
Developing a new quality of life questionnaire for informal carers of people living with dementia
Monash University is conducting a research study that aims to develop a new quality of life measure for informal carers of people living with dementia. This study received funding from the Dementia Australia Research Foundation.
All carers over the age of 18 who provide regular, unpaid support to a person living with dementia in Australia are invited to complete an online survey to help the research team to identify questions that should be included in the new quality of life questionnaire.
The survey will take approximately 15 – 25 minutes to complete. At the end of the survey, you can provide your email address to enter into a draw with the chance to win one of ten $200 gift cards.
If you would like to request further information, please contact Dr Lidia Engel on 03 9903 8961 or via email.
Carers have expressed that they would like to hear more about job opportunities, and we have heard you. As part of our role to support carers, we have included a Jobs Board which will operate as a convenient and easy-to-use platform for you to explore employment opportunities that are relevant to you and across various geographic locations.
Accor
Accor has created a recruitment program called "Work Your Way", which offers multiple employment opportunities across Victoria that are flexible for carers. 
Employment, Education and Training
Carers Victoria currently has a suite of initiatives underway to support carers who wish to enter/re-enter paid employment, vocational training and education.
If you want further information or would like to discuss your situation or explore your options, please email employment.support@carersvictoria.org.au with your contact details and we will be in touch.