'The Voice' Blog March 2023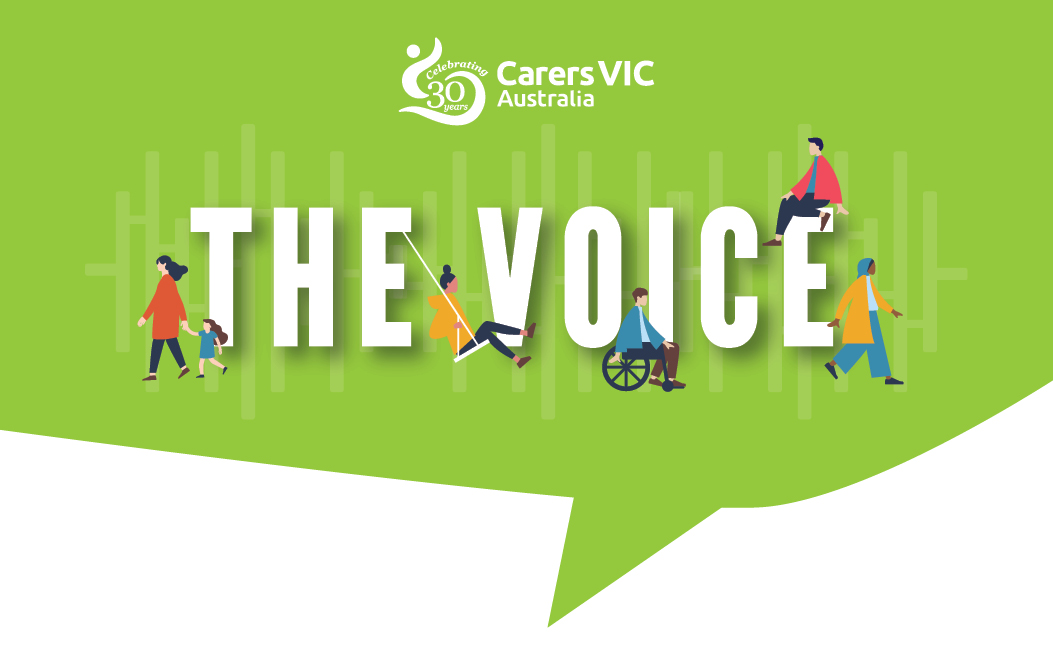 Welcome to the March Edition of The Voice
It's hard to believe we're already in March! Plenty of exciting projects well underway at Carers Victoria this month, including finalising plans for some of our upcoming carer events that you will not want to miss!
This edition offers valuable details on how to get real help when applying for the at-times confusing Disability Support Pension.
We have a truly inspiring Carer's story with Emma, who proved through two separate and then blended family sets that she had the will and the spirit to take care of her family.
Applications for our Young Carers Scholarship Program 2023 are now open. If you're a young carer currently attending secondary school in Victoria, or know someone who is, we encourage you to find out more below. Applications close Friday 14 April. 
Carers Australia recently launched a Carer Wellbeing survey to better understand how many people are providing different forms of care across Australia, and what their needs are. The survey is available online until Friday 31 March. 
These articles and a lot more can be found below.
Happy reading
The Carers Victoria Team 


Message from the CEO
Hello everybody,
This month we have launched our 2023 Young Carer Scholarship Program.
Many of you reading this know firsthand just how tough being in a caring role can be at times, but for young carers it can be particularly challenging as they also seek to grow into their own identities, meet the demands of school and grow and sustain connections with their peers – while also providing support to a person close to them.
We estimate that there are likely 2 to 3 young carers in every classroom across Victoria, and over 71,000 across Victoria. That's a lot!
The Carers Victoria Young Carer Scholarship Program provides the opportunity for young carers who are in secondary school to access some funds that can help support their participation in an activity of their choice that helps enhance their skills, schooling or community participation. Details of how to apply are in this edition of the Voice.
Importantly, this is the first year that The Collie Foundation has provided support for the program and I would like to personally recognise that important contribution, and the difference it will make for so many young carers across this state.
March also marks a month for change for us at Carers Victoria, as it sees our organisation move into new premises at 1/485 La Trobe Street in Melbourne's CBD.
We continue to deliver services to carers in Melbourne's West but post pandemic, our operating model has changed and we now deliver a combination of phone based, on-line and place based events, activities, education and assistance. This means that our new offices are much smaller than the previous Footscray ones, because they are primarily used by staff. Our phone number remains unchanged, but our mailing address has changed to PO Box 13305 Law Courts VIC 8010.
Take care, and I hope you and yours have a good month.
Judith Abbott
CEO

Office Relocation
Carers Victoria has relocated from Footscray to a new office space in Melbourne's CBD, where it will be co-located with Good Shepherd Australia New Zealand. The premises at 1/485 La Trobe Street Melbourne will be a staff and stakeholder hub, with service delivery continuing to operate through existing models.
This relocation reflects Carers Victoria's role as a statewide body that is focused on promoting awareness of and support for all Victorian carers.
Carers Victoria continues to deliver government funded carer support services in the West – to access these, please refer to our website  www.carersvictoria.org.au
Carers Victoria is also exploring opportunities to partner with other services and organisations across the state as part of its ongoing work to provide more local connections and assistance for carers.
If you have any queries about these changes, please do not hesitate to contact us on at reception@carersvictoria.org.au

Young Carers Scholarship: Applications Now Open
Do you know a young person who has taken on a caring role? Over 71,600 young people in Victoria are believed to have significant care responsibilities. Many are at risk of dropping out of school, or have difficulty establishing social networks and participating in activities that their peers enjoy.
Carers Victoria's Young Carers Scholarship Program is proudly sponsored by The Collie Foundation, and gives young carers attending secondary school the opportunity to be acknowledged and supported.
Young Carers Scholarships are open to secondary school students who live or go to school in Victoria and provide care and support to a family member with an illness or disability. Scholarships of up to $500 are awarded to successful applicants. Applications are now open and close Friday 14 April.

Carer Advisory Service
Carers Victoria's Carer Advisory Service is a free and confidential 1800 number providing our members, carers, families and supporters with information, advice, and help on accessing a range of carer specific services.
Carers tell us that it can be a challenge to understand what help is available, where to find it, and how to manage these complex systems on behalf of themselves and the person they care for in a clear and timely manner.  Staffed by experienced and qualified Carer Support Advisors, we offer carers and supporters expert advice on a wide range of topics from navigating service systems to providing referrals to respite and support services across Victoria.
Our Carer Support Advisors can help carers access the Victorian Support for Carers Program by providing referrals to a range of respite and other supports funded by the Victorian government. We can also support carers in their navigation of various programs including the Carer Gateway, My Aged Care, NDIS, Disability Gateway and mental health services.
Please don't hesitate to reach out.
Monday to Friday 9:00am – 5:00pm
Phone: 1800 514 845
Email: access@carersvictoria.org.au
For an interpreter, call Telephone Interpreter Service on 131 450 to arrange a call to speak with us.

Carer Story: Emma's Story
Emma's earliest memories of her son Owen bring a sense of helplessness as she recalls endless days and nights in the Neonatal ICU.
"It was all in Owen's and the doctor's hands," Emma explains. "But Owen kept fighting and proving he was strong. That's when we started calling him 'Mighty Owen'."
Owen was born at 32 weeks, weighing a tiny 880 grams. As a result of his poor start to life, Owen suffered brain damage that resulted in multiple disabilities.
"Unfortunately, being naïve is a good thing," Emma says. "With the endless appointments, specialist therapy sessions, psychologist sessions … the day-to-day caring just becomes the norm."
Find out more about The Adventures of Mighty Owen.

Do you have a story to tell?
You are welcome to write your story yourself or answer these questions, which we will use to write your story for you. Not all stories will be chosen for the website.
Topic: My carer story
Length: No longer than 400 words
Format: Type your story in an email or a Word document, or type your answers to the questions in this document. 
Need inspiration? See other stories that have been written here. 
Submission process: Please email your story to eBulletin@carersvictoria.org.au
What if your story is chosen? Your story will be edited and returned to you to make sure you are happy with the final version before it is published on our website.
If you have any questions, please email: eBulletin@carersvictoria.org.au 
We look forward to hearing your carer story! 

Disability Support Pension Help
DSP Help is a free online resource that assists people in better understanding the Disability Support Pension, clarifies the assessment process at Centrelink, and is designed to help people make more effective Disability Support Pension applications and appeals.
Gaining access to the Disability Support Pension can be challenging and often depends on the quality of supporting medical evidence provided in the application. DSP Help addresses this by assisting applicants and support workers in understanding what is required and by providing resources that can be used when approaching their doctors and specialists for evidence.  
How DSP Help works
Proving that the applicant is medically eligible is the most important part of a Disability Support Pension application. A letter or report from the applicant's doctor or specialist is of critical importance. DSP Help makes use of a Medical Evidence Chatbot to help get the right information for the treating doctor or specialist so that they are able to write the most effective letter. 
What to do
Visit DSP Help  and explore the resource to better understand the Disability Support Pension.
When the applicant is ready to visit the doctor, go to DSP Help Medical Evidence Bot and enter the information about the applicant's condition in the 'Medical Evidence Chatbot'. From there you will receive e a personalised Medical Evidence Kit for the doctor.  This will help them write a letter that addresses the right criteria for the applicant's Disability Support Pension application.
When to ask for help
If Centrelink decides the applicant is not eligible for the Disability Support Pension, there is the option to have Centrelink review the decision.  It is important to ask Centrelink to review it within 13 weeks of receiving the rejection.
Social Security Rights Victoria (SSRV) is a Community Legal Centre that can help with the Disability Support Pension and other Centrelink issues.
SSRV free Legal Assistance Line
Phone: 03 9481 0355 Monday – Friday; 9.00am – 1.00pm and 2.00pm – 5.00pm
If you are a community worker you may also call SSRV's free Worker Help Line
Phone: 03 9481 0655 Monday – Friday; 9.00am – 5.00pm

Extended Unpaid Carer Leave Entitlement
Just days ago, the Productivity Commission (PC) released its Position Paper, A case for an extended unpaid carer leave entitlement? This follows a consultation about the consequences of expanding unpaid leave for carers of older Australians in the National Employment Standards (NES) from two days to between three and 12 months.
As the title suggests, the Commission is not strongly recommending expanding unpaid carers leave for the following reasons:
Most carers of older people are not in paid employment
There is only a small number of carers of older people in paid employment who are likely to benefit from expanded unpaid carer leave
Carers would prefer flexible work arrangements rather than extended periods of unpaid leave.
The Commission is still keen to hear your views and test the relevance of its final recommendations which include:
Whether better access to flexible work would make a bigger difference for more carers
That carers should be given information about how to request flexible work through the Carer Gateway, and
The importance of continuing to progress changes in aged care services and respite.
Your submissions can be made by Tuesday 28 March 2023 with the final report handed to the Australian Government by May.

Brimbank Carer Space
Carers Victoria has been commissioned by the Brimbank City Council to support the co-design of the new Brimbank Carers Space; a two-year pilot space aimed at meeting the needs of unpaid carers in the Brimbank area.
Carers Victoria has been working closely with staff from Brimbank City Council since the start of 2023, engaging with carers and service provider partners to determine how the dedicated space can best be utilised. Carers Victoria has facilitated two carer conversations in February and a Yarning Circle is scheduled for later in the month.
Ideas from these conversations, along with responses from a range of surveys, will help Brimbank City Council understand the thematic needs of carers and support them to develop the physical space in the Brimbank wellness precinct (90 Taylors Rd Keilor Downs). A big thank you to all those who have been involved in the conversations or provided feedback via the surveys. The ideas to date have been excellent!
If you would like to know more about the Brimbank Carers Space project or live in the Brimbank area and would like to be involved, please contact rebecca.edwards@carersvictoria.org.au.

Congratulations to our 100th Carer Friendly Neighborhood House
The Basin Community House is the 100th Carer Friendly Place as part of the Department of Families, Fairness and Housing (DFFH) funded Carer Friendly Places project. This is an important distinction for the essential work with carers in our community.
"We are so proud to be a Carer Friendly Community House," said Heather McTaggart, manager at The Basin Community House.
This achievement was recognised through the delivery of a gourmet hamper and extends a special thank you to Heather and The Basin team on being part of this important milestone for the Carer Friendly Places project.
Through a connection at the Linking Project, The Basin Community House and other local Neighbourhood and Community Houses were made aware and encouraged by Belinda Carney at the Knox City Council to complete the Carer Friendly Place training modules.
We would like to recognise all the Neighbourhood and Community Houses that have completed the Carer Friendly training to date. We also recognise that being a Carer Friendly Place promotes the awareness of carers in our community and helps to make sure that the important role of carers is recognised and supported.
Would you like to be a Carer Friendly Place?
Go to www.carersvictoria.org.au/CarerFriendlyPlaces to start your online training or contact carer.hubs@carersvictoria.org.au to register for face-to-face training options or for information on how you can also be Carer Friendly.

Employment, Education and Training Opportunities
Carers Victoria currently has a number initiatives underway to support carers who wish to enter/re-enter paid employment, vocational training and education.
If you would like further information or would like to discuss your situation or explore your options, please email employment.support@carersvictoria.org.au with your contact details and we will be in touch.
Become a member and stay connected
Become a member of Carers Victoria and join our community to help us make a difference in the lives of Victorian carers.
Membership is free and open to carers, former carers, supporters and Carer Support Groups.
Membership benefits include:
Exclusive invitations to events including our popular Mingle events, carer workshops and programs.

Championing for real change through consultations, focus groups and research.

Staying informed with our monthly eBulletin The Voice, jam-packed with important carer issues, events and stories.

Free digital access to the magazine Australian Carers Guide.

Special member offers, including Hoyts movie tickets.


Featured Workshop
Creative Connections Workshop with Carers in Preston
A FREE workshop for carers by Carers Victoria focusing on fun, creativity and connection Take a break, have some laughs over a delicious lunch, connect with other carers and unleash some creative energy.
Build relationships with other carers in your group and have opportunities to share and learn what has helped others on their journey. This workshop is focused on providing respite, fun and connection for carers in a friendly and welcoming environment.
Topics will include
Music and Self-Care
Learn the importance of music in our lives
Explore how music can improve our mood and help with self-care
Learn how to choose music that's good for body, mind and spirit
Fun games and trivia
Join us for a morning of trivia fun and games
Art and crafts - Learn how to make your own beautiful pop up greeting card
You will be guided in a step by step workshop to make a pop up greeting card. There will be free time and lots of materials to inspire you and decorate further as you like.
Who should attend?
This workshop is for carers only and is not open to support workers and other paid staff.
When: Tuesday 28 March
Time: 9.30am - 3.30pm (Lunch provided)
Where: Bridge Darebin, 220 High Street Preston VIC

Carers Victoria Workshops
We offer a wide range of workshops for carers and service providers.
Our workshops for carers support you to:
Develop skills to support your caring role;
Gain knowledge to navigate complex support service systems; and
Enhance your health and wellbeing.
Check out what's on in March.

Calling all Carer Support Groups - Upcoming Community of Practice Sessions
Carers Victoria will recommence our Community of Practice (COP) program, in April 2023. Our purpose is to create a space where volunteer/unpaid facilitators of carer support groups can connect and share experience, knowledge, challenges and resources.
We will meet online and include unpaid/volunteer facilitators from across Metro Melbourne and Rural and Regional Victoria. Sessions will be held every two months, for five sessions, across 2023. This includes a final face to face get together celebration and evaluation workshop in December. 
The program will begin with the topic of Attracting and Maintaining membership of your Carer's Support Group. Following topics we be drawn from your feedback to be confirmed during our first session together and participants are encouraged to come along to each session, as we build this community.
Join volunteer/unpaid carers support groups facilitators just like you.  Share what you have learned, the challenges you face and resolutions.
*Community of Practice (CoP) is defined as a group of people who share a common concern, a set of problems, or an interest in a topic and who come together to share what they have learned and resolve common challenges.

Ask an Expert: Webinar Series
Neighbourhood Houses Victoria has recently partnered with Carers Victoria, with support from the Victorian State Government, to present a series of webinars to help unpaid carers in Victoria get more support.
This Ask an Expert series is free to attend, with a helpful new topic each week. Carers Victoria will be facilitating the first session, "Who Cares for the Carers".
When: Wednesday 15 March
Time: 12.30pm - 1.30pm
Where: Online

Understanding Carer Needs in Multicultural Communities Forum
In partnership with Carers Victoria, Ethnic Communities Council of Victoria (ECCV) is hosting an online forum to discuss issues affecting carers from migrant and refugee backgrounds.
The forum will cover a range of carer topics, including discussion on identifying hidden carers and what may lead to elder abuse in care relationships. It will also focus on the existing barriers to accessing appropriate support services and raises the question as to what can be done to improve the wellbeing of carers from multicultural communities.
The forum is geared towards CALD organisations and community-based groups supporting culturally diverse carers and their loved ones.
The forum is part of ECCV's Recognising and Respecting Carers project, which is being delivered in partnership with Carers Victoria, with funding from the Victorian Government.
When: Tuesday 4 April
Time: 10:30am - 12:00pm
Where: Online

Walking groups
Western Programs walking groups 

Carers in Brimbank, Hobsons Bay, Caroline Springs, Moonee Valley and Werribee are invited to come along to a walking group in your area. Catch up with other carers over a light brunch and find out about local supports and services for carers. Places are limited, so register your place now. 
Pathways for Carers walking groups: Victoria wide
Carers throughout Victoria are invited to attend walking events in their area to learn more about news, services, and supports available to carers.
Heart Foundation walking groups: Australia wide 
There's a reason why walking is one of the most popular forms of activity in Australia. Join a Heart Foundation walking group to reduce stress, be more alert, have a healthier body and build strong relationships.


Have your say
Carers Australia Carer Wellbeing Survey
The Carer Wellbeing Survey offers a unique opportunity to have your say in sharing your experiences – past and present – of being a carer and the support services you use, including the Australian Government Carer Gateway. You can choose if you would like to complete a long or short version of the Survey and it is available in English, simplified Chinese, Arabic, Italian and Vietnamese. This is the third year the survey has been undertaken, in collaboration among the University of Canberra – Health Research Institute, the Department of Social Services, and Carers Australia. Interested in finding out more? There are resources on the Carers Australia website that provide results from the 2021 and 2022 Carer Wellbeing Survey, as well as the Executive Summaries and Full Reports.
Meeting the needs of carers and a check on their wellbeing are very important to a successful caring experience. That is why the Carer Wellbeing Survey was created – to offer a voice to carers who may feel they are not being heard. Researchers and advocates need to know more about how to support the wellbeing of carers, ensuring they have a high quality of life while providing quality of life to the people they care for. The national Carer Wellbeing Survey is addressing this gap; it seeks to build a comprehensive picture of the wellbeing of carers overtime, and how carers can best be supported.
We look forward to your feedback, as we would like to support the role of carers as they take care of the welfare of large numbers of vulnerable Australians, providing often challenging and complex caring duties

Online Survey: Dementia - Experiences of family care givers
Are you currently caring for a family member with dementia?
A research team at NeuRA, led by Professor Kaarin Anstey, is looking for volunteers to participate in an online survey about stigma.
The aim of the survey is to explore which factors act as a buffer against stigma experienced by family care givers of people with dementia. The outcomes of this study will help inform future interventions about important protective factors against stigma to promote health and wellbeing for family care givers.
To take part, you need to:
Currently be looking after a family member who is formally diagnosed with dementia
Be over the age of 18
Have access to internet to complete the survey


Carers have expressed that they would like to hear more about job opportunities, and we have heard you. As part of our role to support carers, we will now be including a Jobs Board which will operate as a convenient and easy-to-use platform for you to explore employment opportunities that are relevant to you and across various geographic locations. This is the inaugural launch of Carer's Victoria's first Job Board and we update this with every edition of the Voice.
Manager - Family Led Carers Centre - Dandenong (Star Health Group)
FTE 1.0 Permanent Full Time | Job Reference No VAC1197
Make a difference and lead the new Family Carers Led Centre in the Southeast of Melbourne, Dandenong. The Royal Commission into Victoria's Mental Health System has created opportunities to think beyond current ways of doing things to deliver a mental health system that helps all Victorians live their best lives.