Win BIG with a $500 Accommodation Gift Card!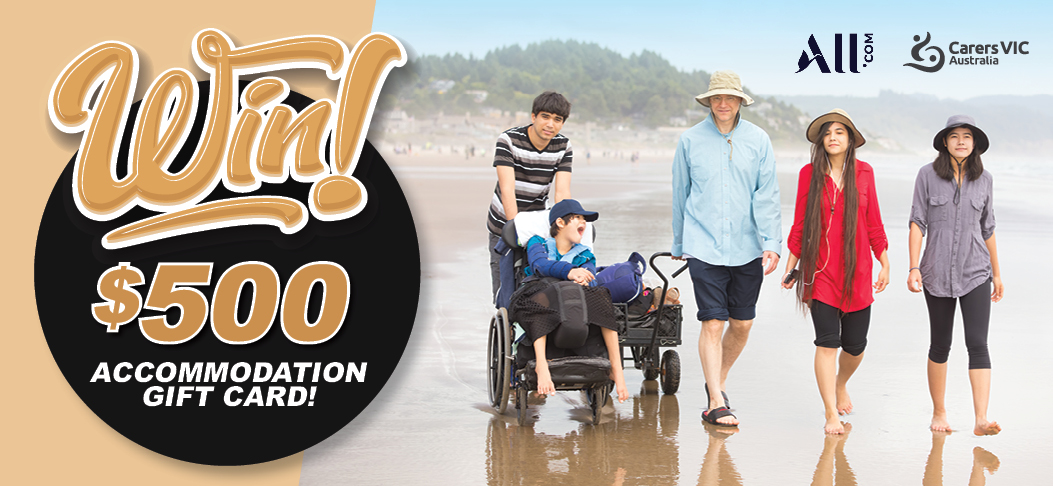 Become a member of Carers Victoria and join our community to help us make a difference in the lives of Victorian carers
Membership is free and open to carers, former carers, supporters and Carer Support Groups.
Membership benefits include:
Exclusive invitations to events including our popular Mingle events, carer workshops and programs specifically designed for carers.
Championing for real change through consultations, focus groups and research.
Staying informed with our monthly eBulletin 'The Voice' jam-packed with important carer issues, events and stories.
Free digital access to the magazine Australian Carers Guide.
Special member offers including Hoyts movie tickets, Accor accommodation and Live Life Foods pre-packaged meals
Free sign up for individuals.
Special member offers
Australian Carers Guide
Australian Carers Guide is a new and independent quarterly publication designed to support and inform today's primary carer. It offers unique insights, creative solutions and helpful perspectives that will make a real difference in your daily life.
Hoyts Discounted Movie Tickets
Carers Victoria members can access discounted Hoyts movie tickets. As a member you can purchase an adult movie ticket for $1.10 (maximum one ticket per day). You must be accompanied by the person you care for (they pay their normal ticket rate) and you must present your Carers Victoria membership card. Terms and conditions apply. This offer is valid until 31 December 2023.
Hoyts Carers Offer Terms and Conditions of Use
Carers need to present Carers Victoria membership card to redeem this offer
Carers must be accompanied by the person for whom they care for to use this offer. If the carer is not accompanied by the person for whom they care, they must pay the appropriate rate for their category (i.e. concession/senior/child/adult)
Offer available at all Hoyts Cinemas in Australia
Maximum of one carer ticket per day
Maximum of one carer ticket per membership card only
Valid for all 2D and 3D films
Valid for No Free List films
Valid all day, every day including Saturday nights, school holidays and public holidays
Valid for films advertised as Hoyts Special Events
Valid for sessions in Hoyts Lux®, xtremescreen® and DBox Recliner®
3D Glasses must be purchased separately at an additional cost of $1* per pair (*subject to change)
This offer is negotiated annually with Carers Australia acting on behalf of all state and territory Carers Associations and may be subject to change at the discretion of Hoyts Cinemas.
In order to redeem this offer, carers must be accompanied by a person with special needs to use this offer. If the carer is not accompanied by a person with special needs they must pay the appropriate rate for their category (i.e. concession/senior/child/adult).
Carers may also present a Healthcare Card, a Centrelink Pension Card or any other cards with government recognised Carer identification.
This information is current to date. However, Hoyts reserves the right to alter this arrangement without prior notice. We trust that this arrangement will assist you and we look forward to providing this support.
Accor Accommodation Discounts
Carers Victoria members have exclusive access to discounted accommodation rates across a range of Accor accommodation throughout Victoria. Please see Accor's dedicated 'Carers Victoria' search and booking page to access the discounts.
Live Life Foods Pre-Packaged Meals Discount
Carers Victoria members who register with Live Life Foods will be provided a member discount code that can be used to gain access to exclusive deals and discounts with Live Life Foods for membership duration. Make sure you check the box "Tick if you are from a Care Organisation Member, Worker or Client" and select "Carers Victoria" to qualify for the discount code.