'The Voice' Blog October 2023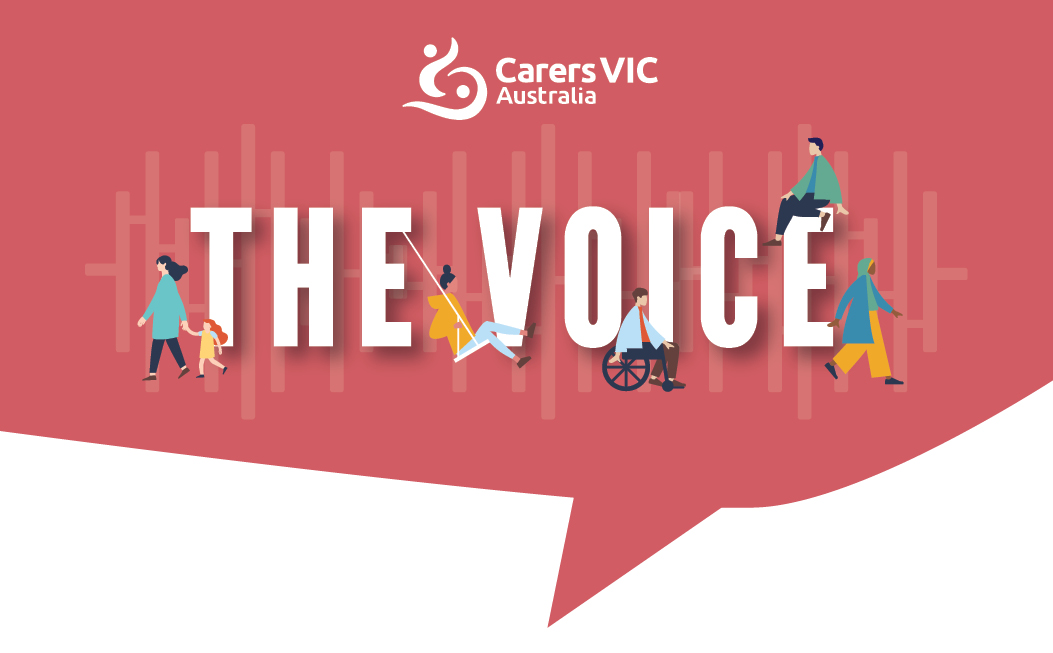 Welcome to the October Edition of The Voice
October is set to be one of the busiest months for Carers Victoria.
We kick off the month with National Carers Week, where it is a timely reminder of the amazing work unpaid carers continue to do across Australia.
Here in Victoria, we are encouraging people to 'care for a carer,' where we all try and take the time to reach out to the carers in our lives and check in.
Whether it is having a coffee, or a walk, or making sure they need some help around the house, or if they need a sleep-in, those smallest of acts will undoubtedly make the grandest of impacts.
The October issue is hopefully a way to spark some ideas, share stories and create much-needed awareness on how we can all support our carers.
And once National Carers Week is over, let's continue to support them in the way they all deserve. With time, appreciation and their own level of care.
We hope you enjoy this edition of The Voice


Message from the CEO
With National Carers Week fast approaching, it's fantastic to know that over 80 carer support groups across the state will be celebrating with Carers-Victoria funded events – part of our continued focus to reach and support carers statewide. We are also excited to have with us Too Peas in a Pod on the evening of Thursday 19 October at 8.00pm, who will discuss the highs and lows of being a carer, register here.
Alongside preparations for National Carers Week, it has been a busy time as our Carers Victoria team progresses assessment of applications for Connecting Carers in their Community and we continue to deliver activities, events and other assistance for carers. The Victorian Government also recently opened applications for grants for provision of additional respite services (the funding announced in this year's State Budget) and Carers Victoria was pleased to submit an application to that process. Carers Victoria also made a submission to the Federal Inquiry into Recognition of Unpaid Carers (add hyperlink) and will give evidence at a public hearing on 4 October.
The recent Victorian Cabinet reshuffle has also seen the appointment of a new Minister for Carers and Volunteers, Minister Ros Spence, and we look forward to working closely with her to improve understanding and assistance for all Victoria's unpaid carers – regardless of where they live, or who they care for.
Have a great month, everyone – and a wonderful National Carers Week.
Judith Abbott

Millions of Reasons to Care
National Carers Week 2023
National Carers Week is fast approaching!
National Carers Week is here, and we're excited to reveal the 84 Carer Support Groups in Victoria hosting events to honour unpaid carers who tirelessly care for their loved ones. Landmarks like Flinders Street Station and Geelong's Catenary Lights will illuminate with Carers Victoria colours, symbolising our support. Join us on October 15 for the 2023 Nike Melbourne Marathon Festival, where every step makes a difference in supporting carers. We've also partnered with 'Too Peas in a Podcast' hosts for an insightful webinar.

Partnerships
Carers Victoria Partners with Accor to Give Carers a Well-Earned Break!
Caring for a family member or friend can be rewarding, but it can also be tiring. Taking regular breaks from your caring responsibilities can help you maintain your own health and wellbeing and make your caring role far more sustainable in the long term.

Many carers find it difficult to take a break from their caring role, often because finding the right person to take their place in providing care can be difficult. Carers often feel guilty about taking a break, or simply don't know where to start.
We understand and that is why Carers Victoria and Accor have partnered. By working together our shared goal is to help improve carer wellbeing and to raise awareness of carers in the workplace and our communities.
Head over to our landing page to see exclusive discounts on selected accommodation in Victoria.
There's more, to celebrate this amazing partnership, we are launching a competition.
Enter into a draw to WIN a $500 voucher
To celebrate our new partnership, one lucky carer will WIN a $500 Accor accommodation gift card valid at any of Accor's participating hotels across Australia, New Zealand and Fiji, rewarding the winner with a much-awaited getaway experience. Don't miss out on your chance to win!

Update on Additional Respite Funding
In the 2023 State Budget, the Victorian Government announced that it would continue funding for additional respite across the state.
In September, the Department of Families Fairness and Housing commenced a competitive process seeking applications from suitably qualified organisations to deliver respite across the State, with increased delivery to rural and regional Victoria as a clear area of focus.
The deadline for submitting grants has now passed, and applicants will await the outcomes of this process with this advice expected in advance of service delivery commencing in December 2023. We will keep carers updated on the outcomes of that process as and when they become available as we know being able to access funded respite is one of the things that carers most value.

Inquiry into the Recognition of Unpaid Carers
Carers Victoria joined Carers NSW and Carers WA at Parliament House, Canberra, at a roundtable discussion, as part of the Parliamentary Inquiry into recognising unpaid carers. Following their submission in August, these organisations united to voice the concerns of unpaid carers. They emphasised the emotional and physical toll of caregiving, advocating for better support, access to respite care, and societal recognition.
The Committee, led by the Hon Amanda Rishworth MP, listened as these organisations shared compelling stories. They ensured that individuals could submit their experiences confidentially or anonymously, respecting privacy concerns. The roundtable concluded with a sense of optimism, as the Committee committed to considering the evidence presented and making recommendations that could lead to positive changes for unpaid carers.

Carers Victoria's Online Wellbeing Program Proves Significant Benefit for Carers
Carers Victoria reveals the results from its innovative Online Carer Wellbeing and Connection Program with the University of Melbourne which conducted carer co-design sessions and sourced co-design participants.
The Online Carer Wellbeing Connection Program, funded by the North Western Melbourne PHN, aims to support emotional wellbeing and improve carers connection.
Key highlights
Innovative online program
Carers Victoria's four-week online program, which was co-designed with input from carers themselves, aims to provide crucial support for carers' mental health and sense of connection.
The program was delivered to an initial ten groups of carers from September to December 2020 as a feasibility pilot and a further 25 groups were delivered between March and October 2021. In total, 70 groups delivered between September 2020 and September 2023 with the program now funded for another 12 months. With a 91% completion rate, the program continues to improve the health and wellbeing of carers in the funded North West region, with Carers Victoria investigating further opportunities to expand across the state.
Positive impact
The initial evaluation involved 103 carers, with 86 completing both pre- and post-program surveys. Results showed a significant reduction in psychological distress, decreased loneliness, and increased perceived social support among participants. In addition to the initial evaluation, a further 33 groups were evaluated by UniMelb during 2022-2023. Evaluation results from UniMelb pending.
Mechanisms of success
The study identified key components contributing to the program's success, including trained facilitators, respite for carers, technical assistance, inclusivity of diverse backgrounds, fostering connections, and promoting self-care practices.
Applicability across diverse groups
Unlike previous peer-focused programs, this model demonstrated applicability across various carer demographics, highlighting its versatility and inclusivity.
Adapting to COVID-19
The evaluation took place during the challenging times of COVID-19 restrictions, underlining the program's adaptability to unique circumstances.
Room for expansion
While the program showed remarkable promise, it also highlighted opportunities for further implementation, particularly among underrepresented groups, such as younger carers, culturally and linguistically diverse communities, and rural carers.
Future directions
There is a more extensive implementation study which is underway between May 2022 and September 2023, to assess the program's real-world impact.
This newly published paper was based on the first evaluation of the first 35 groups. Between May 2022 and September 2023, a further 35 groups were delivered. With the evaluation results pending.
This project would also incorporate the concept of Clinically Meaningful Change (CMC) or Minimum Important Difference (MID) to gauge the program's impact on psychological distress, loneliness, and social support. The aim is to determine a threshold value that signifies a meaningful change to patients and caregivers.
Innovation and promising model
Carers Victoria's Online Carer Wellbeing and Connection Program represents a grassroots approach to addressing the mental health and support needs of carers. The program has demonstrated that online initiatives can be effective, even in times when in-person connections are challenging to maintain.
Carer wellbeing is of utmost importance, not only for caregivers themselves but also for those they care for and the broader economy. Carers Victoria's Online Carer Wellbeing and Connection Program has proven to be a model of promise. As we move forward, efforts should be made to expand the program and overcome implementation challenges. From May 2022 and September, a non-experimental demonstration project has been the next step to confirm these findings and provide essential support to carers across the region. Stay tuned for the outcomes.

Carer Story
Tamlyn's Story
Life as a lifelong carer
Tamlyn, a 49-year-old woman, embarked on her caregiving journey at the age of 19 when her daughter, Zoey, was born with intellectual and physical disabilities. Throughout her life, Tam has demonstrated unwavering dedication to caring for her daughter and, more recently, her mother, who has Alzheimer's disease. Tam faces her own challenges as she lives with spina bifida, relying on a wheelchair full-time.
"I started this journey at a young age when Zoey was born, and it's been a profound part of my life ever since. It's a role I cherish despite the challenges." Tam says.
While Zoey, Tam's 30-year-old daughter, can walk short distances, she relies on support for essential tasks such as feeding, dressing, and transportation. For longer distances, Zoey uses a wheelchair. Over the years, she has experienced 13 dislocations, particularly with her patella. Zoey is non-verbal but communicates using sign language. She attends a day program four days a week and has an 8Q deletion, a genetic condition that poses additional challenges.
Tam has been Zoey's primary caregiver since her birth, devoting herself to Zoey's well-being and ensuring she receives the best care possible. Despite the challenges, Tam finds solace and rejuvenation in her personal pursuits. She practices yoga and dancing, specifically "Dance and Roll," as a way to recharge and focus on herself. These activities provide her with friendships, laughter, and a sense of freedom, allowing her invaluable respite.
"Zoey is my world. She faces unique challenges with her 8Q deletion, and it's been a learning experience for both of us. But we've grown together through it all."
Apart from her caregiving duties, Tam values her time in nature. Being in natural surroundings brings her immense joy and tranquility, helping her recharge her emotional batteries. Being in nature is like a breath of fresh air for me, emotionally and spiritually."
In addition to caring for Zoey, Tam spends time with her mum who has Alzheimer's, "We enjoy doing yoga and art classes together, and we provide emotional support for each other."
Tam is fortunate to have a supportive partner who understands the challenges she faces as a carer. Occasionally, she enjoys weekends off and relishes the opportunity to have long coffees with friends. Tam has cultivated a strong network of friends who provide her with emotional support. "My friends are my lifeline. They provide the emotional support that keeps me going, and I'm grateful for their presence in my life."
Tam resides in Wantirna, where she navigates the challenges of living with spina bifida and relies on a wheelchair full-time. She is currently in the process of acquiring a carer to assist her in her daily life.
Tam has established a strong connection with Carers Victoria, which has played a pivotal role in providing her with much-needed support and social connections. She has attended events organised by Carers Victoria, such as Mingles in Philip Island, and actively participates in their programs. Recognising the importance of social connection, Tam values her involvement with Carers Victoria as a lifeline for connecting with other caregivers and accessing valuable resources. "Carers Victoria has been a beacon of support. Their events and programs connect me with fellow caregivers and provide invaluable resources." Tam adds.
Tamlyn Dunn's journey as a dedicated carer for her daughter Zoey and her mother exemplifies the resilience, strength, and love that caregivers pour into their roles. Despite the challenges, Tam finds solace in her personal pursuits, nature, and the support she receives from Carers Victoria, emphasising the vital importance of social connection and self-care for caregivers like Tam.
"Being a carer has definitely been a bumpy ride with many ups, downs, twists and unexpected turns. You just don't know what each day or moment will bring. Will it be a good day, smooth sailing or will there be a meltdown, a sick day? How will I cope, what will I have to cancel, will she be ok?"

Carer Stories
Do You Have a Story to Tell?
You are welcome to write your story yourself or answer these questions, which we will use to write your story for you. Not all stories will be chosen for the website.
Topic: My carer story
Length: No longer than 400 words
Format: Type your story in an email or a Word document, or type your answers to the questions in this document. 
Need inspiration? See other stories that have been written here. 
Submission process: Please email your story to eBulletin@carersvictoria.org.au
What if your story is chosen? Your story will be edited and returned to you to make sure you are happy with the final version before it is published on our website.
If you have any questions, please email: eBulletin@carersvictoria.org.au 
We look forward to hearing your carer story! 

Fundraising
Play for Purpose
Who doesn't love a good old-fashion raffle, especially when it is raising money for carers?
Tickets are only $10 with hundreds of prizes to be won including JB Hi-Fi gift vouchers valued at $15,000 and a Visa gift voucher worth $2500 with the top prize being a $250,000 first prize pack which includes an Audi Q5 Sportback S Line and $131,000 in gold.
You need to hurry as the raffle ends on Thursday 14 December 2023.
With 395 prizes up for grabs, you have got to be in it, to win it!

'The Voice' to Parliament
With the Referendum around the corner, here is an easy-to-follow statement on 'The Voice' to Parliament which may be of assistance.
This is a resource developed by the First Peoples Disability Network (FPDN) that may be of interest to carers and their families providing to providing information on the Uluru Statement from the Heart in Easy Read, so it is accessible for people with disability or low literacy.

Changes to the Victoria Sick & Carers Pay Guarantee Scheme
There have been some recent important changes to the Victoria Sick & Carers Pay Guarantee Scheme that will significantly impact casual and contract workers in certain job sectors. Following an extensive public consultation, the Victorian Government has decided to expand the scheme, providing eligible workers with up to 38 hours of sick and carer's pay per year. These changes aim to address the challenges faced by working carers and offer added benefits to the casual workforce.
Empowering working carers
The revised Sick & Carers Pay Guarantee Scheme aims to provide much-needed financial support to individuals who are both caregivers and employees. This initiative recognises the valuable contributions of carers to our society and seeks to ease the financial challenges they may encounter when balancing work and caregiving responsibilities.
What's changed?
Previously, casual and contract workers had limited access to sick and carer's pay, which could make it challenging to cope with unforeseen health issues or caregiving duties. With these changes, eligible workers will now have the option of taking up to 38 hours of paid leave per year, alleviating the stress associated with lost income during these times.
Benefits for the casual workforce
The casual workforce has grown significantly in recent years, providing flexibility but often lacking job security and workplace benefits. The extended sick and carer's pay entitlements will benefit casual workers, offering them a safety net they may not have had previously. This change acknowledges the importance of casual employees in our economy and aims to provide them with increased stability and support.
The public consultation process
These changes have been shaped by a comprehensive public consultation process that sought input from various stakeholders, including workers, employers, advocacy groups, and the community. This inclusive approach ensured that the modifications to the Sick & Carers Pay Guarantee Scheme reflect the needs and concerns of those it affects.
Strengthening support for carers
As Carers Victoria, we acknowledge these changes as a positive step towards supporting carers in our community. The enhancement of the Sick & Carers Pay Guarantee Scheme will make a tangible difference in the lives of working carers, allowing them to continue providing care to their loved ones without sacrificing financial security.
More information
For additional details about the revised Sick & Carers Pay Guarantee Scheme and its potential impact on you, please visit Sick Pay Guarantee.
To read more about the public consultation process click here.
We believe these changes will have a positive impact on the lives of carers and casual workers across Victoria. They represent a significant step forward in recognising and supporting the essential role that carers play in our community.

Competition
Winners are Grinners
Drum roll please! The winner of the second Live Life Foods Competition is Michelle W from Narre Warren South.
Michelle is a carer for her 23 years old son with cerebral palsy, who was born very premature and is in a wheelchair. She is also caring for her 96 year old mum who recently had a stroke.
Michelle will receive a month's worth of mouth-watering dinners and desserts for two, delivered to her door, FREE!
For Michelle, she will be spoilt for choice when it comes to meal selection.
"I will be ordering a range of meals for myself and my son, and possibly my mum. I am interested in trying a variety of different dishes."
Live Life Foods is not only delicious but also meets the daily nutritional requirements for Victorians over the age of 65 in accordance with Nutrition Professionals Australia (NPA).

From lamb casserole with sweet potato mash and vegetables to tuna mornay pasta with broccoli to vegetable risotto, the choices are endless.

There are loads of other beautiful dishes to choose from, so check out the options.

As a Carers Victoria member, you can gain access to exclusive deals and discounts.
If you are looking at easier ways to get dinner on, try Live Life Foods.
Out Now Australian Carers Guide Spring Edition 
The Australian Carers Guide, Spring edition is loaded with great stories and insights to support carers.
In this issue, ACG unpacks robotics in aged care, multigenerational holiday tips, as well as recipes from Maggie Beer.
And of course, ACG is covering what is happening during National Carers Week where you can discover all the free and fun activities being offered carers around Victoria.
Read the magazine online or pick up the latest edition at your favourite newsagent. The Australian Carers Guide is circulated to more than 80,000 readers and subscribers and it is the go-to magazine for unpaid carers around the country.

Become a Member and Stay Connected
Become a member of Carers Victoria and join our community to help us make a difference in the lives of Victorian carers.
Membership is free and open to carers, former carers, supporters and Carer Support Groups.
Membership benefits include:
Exclusive invitations to events including our popular Mingle events, carer workshops and programs.

Championing for real change through consultations, focus groups and research.

Staying informed with our monthly eBulletin The Voice, jam-packed with important carer issues, events and stories.

Free digital access to the magazine Australian Carers Guide.

Special member offers, including Hoyts movie tickets.


Featured Event
Too Peas in a Podcast Webinar
To celebrate National Carers Week, Carers Victoria will be joined by the ladies from Too Peas in a Podcast for a special Webinar Edition.
Mandy and Kate, our special guests from Too Peas in a Podcast, are proudly mediocre working mums who are on a diverse parenting journey and loving it!
They have experienced the highs and lows of parenting – and wouldn't change a thing. They met a decade ago and bonded over their twins with additional needs. As they grew closer, however, they confided that they felt "on-the-floor lonely' sometimes because nobody was talking about what life was like for families like theirs.
So began Too Peas in a Podcast, a weekly conversation in which the two friends discuss the surprises, the challenges and the joys of parenting children with additional needs. This podcast has formed the most amazing tribe of "pea parents" and even gave birth to a book "The Invisible Life of Us".
Carers Victoria is extremely excited to have these ladies join us on this Special Edition Webinar in National Carers Week.
Attendance is FREE, but registration is essential. Registrations will be closed when all places are filled.
When: Thursday 19 October 2023
Time: 8.00pm - 9.00pm
Where: Online via Zoom

Events to Discover and Participate in October
October is choc-a-bloc with a suite of events, workshops and social activities across the state.
Whether you are about self-learning, enjoying a brunch or would like to connect with other carers, there is always something for you.
Carers Victoria has carefully curated a number of activities so you have a choice in how you can be supported.
Check out your local carers support group who may have received a Carers Victoria grant to hold a National Carers Week event. For the complete list and all the other events on offer, visit our What's On Calendars.

Walking Groups
Western Programs Walking and Brunch Groups 

The Support for Carers Program continues to offer carers residing in Melbourne's western metropolitan area opportunities to catch up with other carers as well as find out about local supports and services.
From the Werribee, Caroline Springs to Melton and Hobsons Bay, the Carer Walking and Brunch Groups are great social opportunities to chat over a light brunch.
For more information on these and other social group activities, visit our What's On - Calendar For Carers.
Heart Foundation Walking Groups: Australia Wide 
There's a reason why walking is one of the most popular forms of activity in Australia. Join a Heart Foundation walking group to reduce stress, be more alert, have a healthier body and build strong relationships.


Carers have expressed that they would like to hear more about job opportunities, and we have heard you. As part of our role to support carers, we have included a Jobs Board which will operate as a convenient and easy-to-use platform for you to explore employment opportunities that are relevant to you and across various geographic locations.
Accor
Accor has created a recruitment program called "Work Your Way", which offers multiple employment opportunities across Victoria that are flexible for carers.